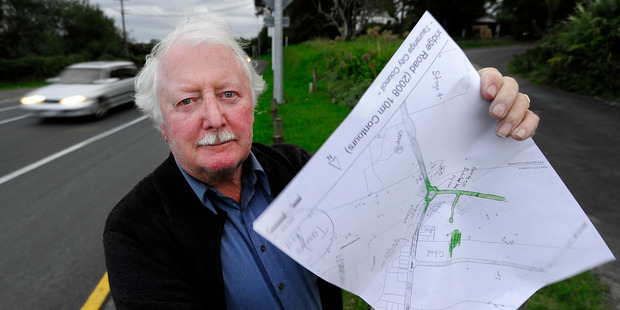 A city-wide drive is underway to find new housing areas, with developer Bob Clarkson hopeful the process will unlock his plans for a massive subdivision at Tauriko.
Tauranga's selection by the Government as an area to fast-track housing has seen the council under a tight deadline to bring more land to the market in order to increase the supply of houses and bring down prices.
A special council meeting had been called for next Monday to discuss options after Housing Minister Dr Nick Smith told the council he wanted to hear back by early next month on which blocks of land could be opened up for housing.
Developers like Peter Cooney, of Classic Homes, have been busy identifying areas with the potential to be quickly brought into housing, including greenfield paddocks.
"I have pointed out some areas that may be useful to look at and did not require huge amounts of infrastructure ... pockets of land that can be developed reasonably quickly," he told the Bay of Plenty Times.
Once all the suggestions were in, the council would consider the feasibility of bringing them to the market.
A developer with a lot to gain from his land being fast-tracked under a housing accord was Mr Clarkson, who owns 200ha of rural-zoned land on the other side of the highway to the Tauriko Business Estate.
The former National Party MP supported the Housing Accords and Special Housing Areas Act, partly because he saw how it could quickly overcome obstacles that had so far prevented his development going ahead in which about a quarter of the 1600 to 1700 houses would be earmarked for affordable housing. They would be built to the same standard as other houses except he would discount prices by $9000 to $10,000 a year for 10 years.
Mr Clarkson said he could offer the discounts because of the bulk deals with building firms. And with none of the risk on the council because he would fund all the infrastructure up front, it left access onto SH29 as the main issue to negotiate with the New Zealand Transport Agency.
He was prepared to partially and fully fund the two roundabouts accessing the bottom and top of his land, and might contribute to a major upgrade of the intersection with Cambridge Rd.
"I can get it through Transit [the agency] if someone starts pushing, he said, referring to his desire for Dr Smith to fast-track his development by giving it housing accord status."
Councils growth and funding strategic planner Andrew Mead said they were looking at options for council-owned land and land that developers wanted to progress. Some would be easy like ones that fitted the City Plan, some would push the envelope a little and some, like Mr Clarksons land, did not fit the City Plan or SmartGrowth.