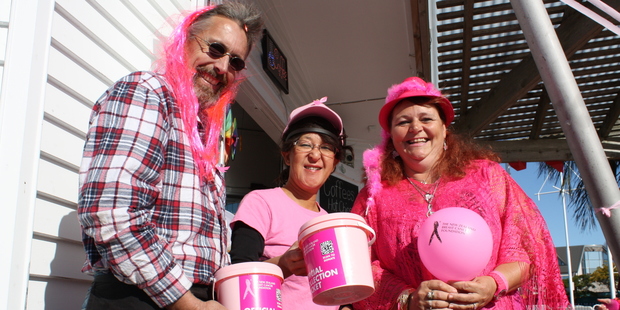 Cancer is all too familiar for the owners of Nemos Kai on The Strand in Tauranga, who organised a fundraiser Pink Ribbon Day on Saturday.
Shane and Karen Putan had just come through Shanes three-year battle with testicular cancer, while Karens mother had battled breast cancer at a similar time.
Their close friend, Shona McCulloch, who often helped out at the shop, had also watched her sister go through breast cancer, not once, but twice.
So when they came across the opportunity to support Pink Ribbon Day for the New Zealand Breast Cancer Foundation, there were no second thoughts.
They organised a fundraiser at Nemos Kai on Tauranga's waterfront with live music entertainment from Ms McCulloch and her family, a Tauranga Samba demonstration from 1pm to 3pm and kids fun rides, donated by friends. Dressed in pink and selling pink baking and icecream, they hoped to raise awareness as well as money.
Ms McCulloch said it was a cause close to all of their hearts.
"Its touched all of us so thats why were doing it."
Her sister survived two rounds of breast cancer, but could not make it to the fundraiser as she was looking after children. "She knows were doing it and I told her well be thinking of you today Rosenna."
Mrs Putan said they also wanted to raise awareness and remind people to get checked regularly.
She said since her mother was diagnosed she had regular checks.
Ms McCulloch said once one family member was diagnosed there was a higher risk for other family members so she had also been getting regular mammograms.
"Ive got the all clear for now. I always say for now because you never know."
Mr Putan said the message and awareness was just as important for men for testicular cancer.
"Its a shock to everyone. Men need to go in and get a yearly check as well.
Your life's too important.