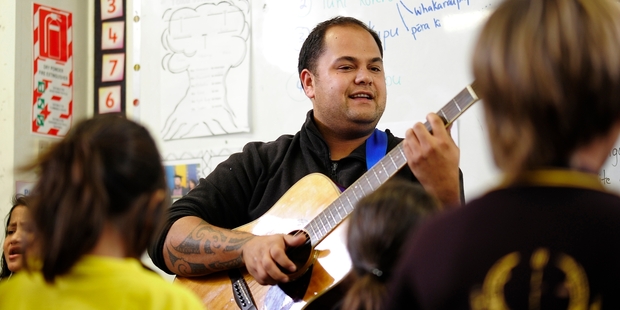 It's not easy teaching children in Maori when they only speak English at home, but Te Aoterangi Moore does it well.
The Te Kura o Matapihi teacher was nominated for the Bay of Plenty Times Awesome Teachers series by colleague Leonie Walker for his attitude towards teaching.
Mr Moore, known as Matua Te Ao to his students, has been teaching his 29 Year 3 and 4 children their genealogy this year.
As the Bay of Plenty Times arrives, four students are standing at the front of the class, one acting as an interviewer and asking the other students questions about themselves, their family and their ancestry in Maori.
After a song, a small group of students is broken away from the rest of the class to work on phonetics.
These students have come to Matapihi from a mainstream school and are still learning to read and pronounce Maori words.
Mr Moore spreads out some cards on the floor with combinations of vowels on the reverse side. The students' task is to read these vowel combinations with a consonant at the beginning, in this case the letter K.
The students struggle most with combinations that have an I or E sound, as these are pronounced differently in Maori than English.
"This year, I've got three that came into my class knowing Maori. Most come in and can count to 10, and that's about it. The majority of them have no one at home that speaks Maori so they speak it for five hours at school then go home and switch it off."
Mr Moore started his career as a teacher aide, then decided to become a qualified teacher.
"I was lucky enough to be brought up with the Maori language and as I got older I realised how fortunate I was. I wanted to be a Maori immersion teacher so went and got my Bachelor of Education. It's challenging here, it's almost like second language learners, they are only learning Maori while they are at school."
Mr Moore bases much of his class work on a tuakana-teina relationship, where the younger students learn from their older classmates.
"The teacher isn't the fountain of all knowledge, we learn and work off each other."