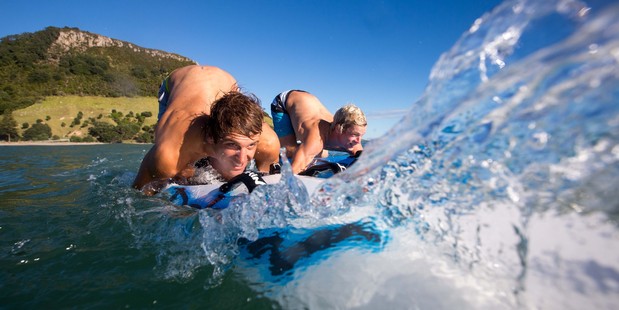 Mount Maunganui surf lifesaving legends Andrew Newton and Sam Shergold have both represented New Zealand but next week when they take on the world, their road to glory will be an endurance test against the unknown.
The duo are first-time competitors in the prone paddlers category at the ISA World Standup Paddle and Paddleboard Championships in Nicaragua.
Distinguished surf lifesavers the pair have made a big name for themselves on the national and local circuit however they admit pitting their skills against the big guns will be a challenge.
Prone paddleboarding tests stamina as competitors are expected to race on their hands, knees and stomach propelling themselves through the water using their upper body strength.
Shergold says his surf lifesaving skills will come to the fore with the only discrepancies being a different length board and longer distances. The 20-year-old will fly the flag in the 18 kms event.
"Obviously we race 100 metres in surf lifesaving but we have been training heaps and putting in the work."
Lake Nicaragua where the championships is held was known for its wind and chop so training on the sea had it's advantages.
"I think the conditions could be similar to the sea if it gets real rough."
Playing it smart is the game plan 27-year-old Newton has adopted for his 6kms technical paddleboard race.
"You have tactics and a game plan. Go out hard, sit in the front pack and there is a certain point when you just blast it home.
"If it's flat people are just going to sit on your washes and stuff like that so you have to play smart."
Going into the unknown meant you treated everyone with respect and anyone on the line is your ultimate opposition, he says.
Australia, USA and South Africa were top contenders although 24 countries had locked in for championships, which was in its third year.
The men have had to fundraise $7,000 each by selling cheese toasties, holding yoga nights, organising a derby night and running a surf school holiday programme.
"It's expensive but at the end of the day you will do anything to represent your country,"
Newton says. "And who knows hopefully this will set us up for another endeavour. There is a whole series of oceanboard paddle races out there and if we do well at this event it may open up avenues. We might get sponsorship, you have just got to do it while you are young and enjoy it."
19-year-old Ashley Cochrane from Omanu will also compete in the 6 kms women's technical race.