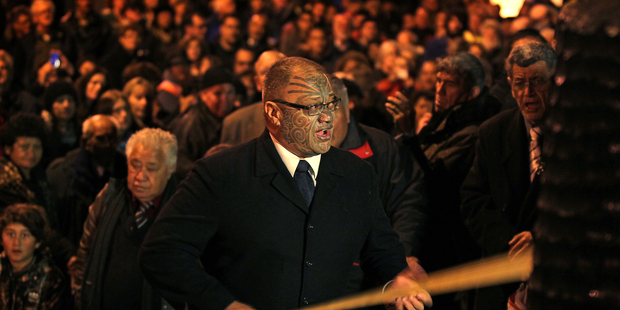 Pou representing the people who fought the battle that shaped the history of Tauranga 150 years ago were unveiled today in dawn blessings at the Gate Pa battle field.
Rain did not deter about 1500 people from gathering for the blessings of the pou followed by the raising of three flags on the new flagpole that symbolises the history and reconciliation of of the peoples of Tauranga Moana.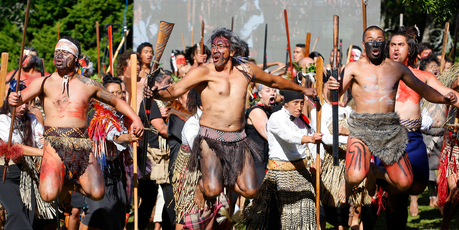 The rain appropriately eased off for the blessing of the eight pou that line the side of the Pukehinahina Reserve fronting Cameron Rd, with one of the pou bearing a striking resemblance to General Cameron who led the English soldiers against the Maori warriors in the battle pa, and were repulsed with a big loss of life.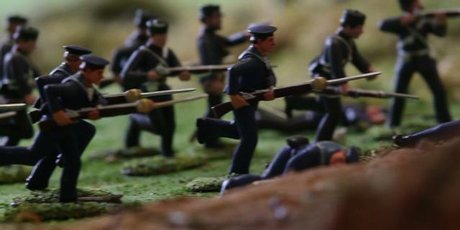 The carved tree pou inside the reserve were then blessed followed by the heavily symbolic raising of the British Union Jack and the Maori flag flanking each side of the main pole from which flew the flag of the modern state of New Zealand.
Judea-based hapu Ngaitamarawaho, Tauranga Moana iwi and other Bay of Plenty iwi who fought at the battle were also represented on the pou which were blessed one at a time.
Victoria Cross holder and New Zealand war hero Willie Apiata spoke at a commemorative dinner last night, held exactly 150 years on since commanders of the colonial forces dined at The Elms the night before the battle, which will be commemorated throughout the day today.
Click here for your guide to Battle of Gate Pa commemoration events.