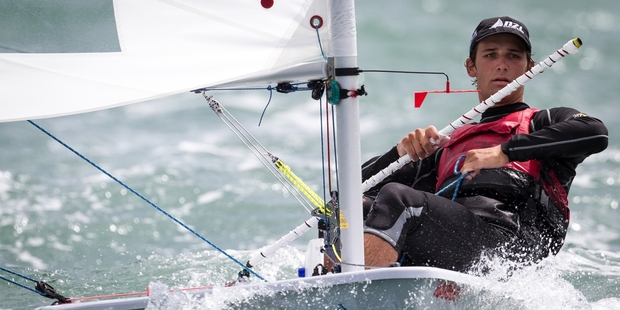 The ISAF Sailing World Cup in Hyeres, France has hit the mid-way mark and many of the NZL Sailing Team continue to inch up the standings with Jo Aleh and Polly Powrie, and Peter Burling and Blair Tuke leading the charge, both now holding the overall lead.
Alexandra Maloney and Molly Meech have moved into the top three in the 49erFX, Andy Maloney lies third in the Laser, Josh Junior is in fourth in the Finn and Marcus Hansen and Josh Porebski are fourth in the 49er.
"It was really nice conditions, a little more breeze than expected and it was nice to stretch out again," said Tauranga's Maloney. "It's always nice to get a bullet and it helps with confidence, it was a solid day and we're looking forward to the next three days."
In the women's 470 Aleh and Powrie placed 2nd in both gold fleet races and take the lead by two points from Sophie Weguelin and Eilich McIntyre (GBR). Over in the 49er class the gold fleet sailed three races and Burling and Tuke used them to take the lead and extend a points margin to stand 11 clear of chasing rivals Ryan Seaton and Matthew McGovern (IRL).
The overnight leaders, from Britain, slipped to third place with New Zealand's Marcus Hansen and Josh Porebski now hot on their heals in fourth.
In the Finn class Josh Junior had his best day in Hyeres and lifted his overall position from seventh up to fourth as a result.
After another solid day Sam Meech retains seventh place in the Laser class, while Thomas Saunders sailed well to climb 10 places on the leaderboard.
Across the other fleets Gemma Jones and Jason Saunders sailed well in the Nacra 17 and are now in 14th. Paul Snow-Hansen and Daniel Willcox are lying 29th in the men's 470 and Sara Winther is the best placed Kiwi in the Laser Radial in 19th place. Jon-Paul Tobin lies 18th in the men's RS:X and Natalia Kosinska is in 15th in the women's division.