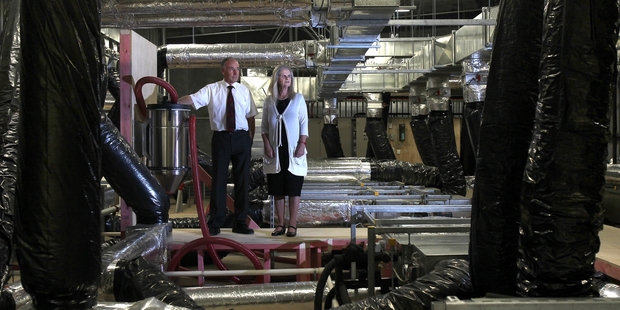 Tauranga-based nutraceuticals company Health House (Zealand Publishing House Ltd) last week opened its 1000sq m manufacturing and retail facility in Tauriko Business Estate.
"We've upgraded everything substantially, especially our manufacturing capabilities," said managing director Mike Coory.
Health House was started in 1986 by Mike's father David, a health researcher, on the back of the success of his book Stay Healthy By Supplying What's Lacking In Your Diet, which has to date sold 84,000 copies. David Coory remains involved as a director of the business, but was now focusing on writing projects, said Mike Coory, formerly an accountant with KPMG, who took over the management of Health House in 2009.
Mr Coory snr started the business in response to queries from readers seeking the minerals profiled in his book. After initially importing products, he developed a multi-mineral/vitamin supplement called CAA, which remains the company's best-selling product. Health House now sells a variety of nutraceuticals, including Omega-3 pills, bee-venom gel, colostrum powder and colloidal silver liquid.
The company also maintains its book business, selling a range of health books, about half of which were printed and published inhouse.
Mike Coory initially got involved in the business in 2008, when a manufacturer that had been making products for Health House went into liquidation.
"To protect our product, we bought the manufacturing business off the liquidator," he said. That arm of the business is called New Zealand Health Manufacturing Ltd. Owning its own factory has allowed the company to expand as well as have greater control over quality, said Mr Coory.
"It's an extremely competitive business," he said. "So much of the competing product is made offshore, or in large factories where everybody is sharing the facility. We're trying to make it all about quality by making our products locally. We decided to build a manufacturing facility exactly as we wanted it. Our new clean room is pretty much at the top end."
The company markets and distributes its own branded products through a number of channels. In addition to selling to wholesalers, which supply health shops, the company sells directly online, but the majority of sales are phone orders, and the company maintains its own in-house 24/7 call centre.