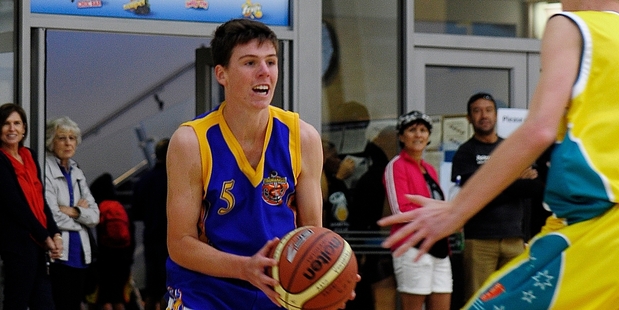 It was the turn of the youngest Tauranga ballers to shine on finals day at The Basketball Pacific Easter Tournament at ASB Arena yesterday.
Tauranga City Basketball's under-12 boys - the only one of the association's to make a final - ran all up and down on Waitakere to claim the final 55-22 in a one-sided affair.
The appropriately named Kobe Koho top-scored with 14 points and Salem Broughton added 12, with 10 other players scoring in the well-balanced effort.
Coach Joseph Broughton was happy to claim a division for the home town fans.
"It's pretty exciting, we've only had the boys together for about eight weeks, which isn't a long time, but we've got great support," Broughton said.
"It's all our kids and the parents have been really supportive, so we're very proud."
The team featured three key players who will be available for the age group next season, and is likely to have some of its players included in the combined team to play in the Australian Country Cup competition at the end of the year.
Other notable finishes included third in the under-19 boys thanks to a 111-79 romp over Palmerston North, and fourth placings in the under-17 boys, under-12 girls and under-21 women.
Tauranga City Basketball general manager Mark Rogers said the association, which picked up the hosting rights from North Harbour during their third year of allotment, would likely bid to host the tournament again.
"The feedback has been amazing, people love the facility. The tournament ran smoothly, so we are really happy," Rogers said.
"It's supposed to be on a three-year rotation ... we will go through that process. We'll catch our breath and then have a chat with the organisers.
"It would be great for the city, and great for basketball in the town."
Tauranga City Basketball is tracking well in the fourth year of a five year plan, he said.