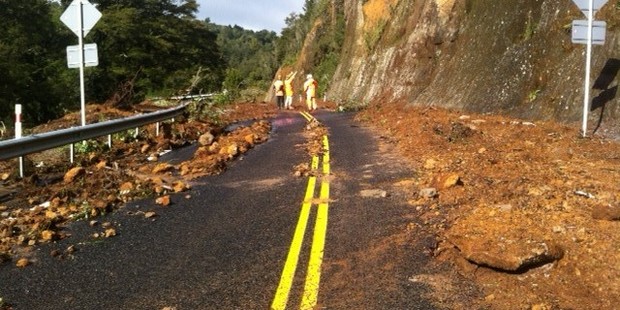 UPDATED 11.10am: The NZ Transport Agency says State Highway 36 between Rotorua and Tauranga will reopen at midday today to a single lane with manual traffic control.
The agency is advising heavy vehicles to continue to avoid using this road to ensure expected delays are kept to a minimum.
It said the road was likely to remain open to a single lane only for at least a week to allow the remainder of the slip clean up and slip stabilisation work to continue. Delays of 10 minutes or more should be expected due to the road being only open to a single lane in the Mangorewa Gorge between Te Matai Rd and Dudley Rd.
Alternate routes for heavy vehicles are SH2 and SH33 or SH29, SH28 and SH5.
The agency thanked motorists for their patience and on-going co-operation while clean up works are completed.
EARLIER: The main highway between Rotorua and Tauranga remains closed this morning but is hoped to be re-opened at lunchtime.
The section of State Highway 36 was closed after a large slip on Thursday when the region was pummelled by severe wet weather.
The road is expected to re-open to one lane but police advise anyone travelling between the cities to consider SH33 near Te Puke as an alternate route.