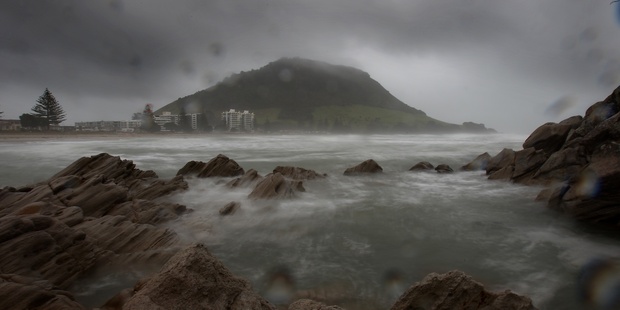 UPDATE 12.37pm: Heavy rain, downpours and very strong winds are expected for the Bay of Plenty this week, MetService has warned today.
Active and unsettled weather will dominate the week, with a tropical low bringing heavy rain and gales on Thursday and Friday.
MetService media and communications meteorologist Daniel Corbett said the inbound tropical low will "certainly pack a decent punch", with severe weather across the country.
As an exposed eastern area, the Bay of Plenty could see wind gusts of more than 110km/h along with torrential downpours and some higher than normal seas at high tide.
The centre of the tropical low will stay to the west of the country, but its associated heavy rain band will sweep down across the north of the North Island during Wednesday night into early Thursday.
MetService said Easter Sunday looked to be a mix of sunshine and a few showers.

EARLIER 6.47am: The Bay of Plenty can expect more severe weather warnings this week in a spate of bad weather.
MetService duty forecaster Francis Russell said the tail-end of Cyclone Ita that swept through Queensland a few days ago was heading towards New Zealand.
However she said it no longer had the tropical characteristics and therefore was not classed a cyclone.
No severe weather warnings have been issued for the Bay of Plenty yet, however she said MetService would be looking to issue them today or tomorrow.
"The Bay of Plenty may have heavy rain at times. Easterlies rising to gale-force winds, up to 110km on Thursday."
She said the worst weather was expected on Thursday, with significant rain expected to continue into Friday.