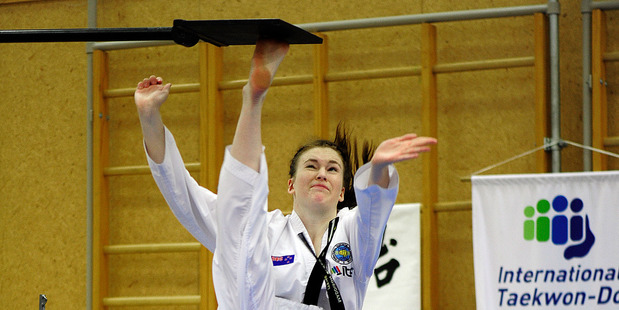 Mass royalist-inspired hysteria in Cambridge may have made the Bay a little quieter over the weekend, but one event at least ensured it was not all one-way traffic over the Kaimais.
The Regional International Taekwondo Federation tournament at Aquinas College Hall drew participants from Te Karaka, Hamilton, Cambridge and Te Awamutu as well as the three Tauranga clubs.
Midlands coach Ross Black, who won gold with the New Zealand team in Argentina in 2009 and individual silver in sparring at the US Open the following year, said the tournament represented a rare chance to bring the region's fighters together.
"The tournament was to help us pick a team from the region for the nationals, which are also in Tauranga this year," Black said.
"What we'll do over the next week is look over the results and, depending on how many people in each division, send out emails questioning whether people want to be part of the team."
The martial arts discipline is slightly removed from the World Taekwondo Federation form contested at the Olympic Games.
"There is quite a bit of difference between the two," he said.
"In the Olympics they wear body padding and you can't punch to the head, whereas in the ITF you can do anything - as long as it's above the belt.
"It's hard to distinguish between the two, it's more of a preference than anything.
"It's like asking someone which they prefer between rugby and rugby league - everyone has always got their own opinions on it."
The weekend featured sparring, patterns, speciality and breaking, with the July nationals to also include teams classifications.
The Midlands team will be selected in the coming months, with Black generally impressed by the performances of Tauranga's hopefuls.
"All of them did pretty well, some of them you could see had trained a lot harder since the last regionals.
"Hopefully, we can put a good team together for nationals seeing as though they are being held in Tauranga."