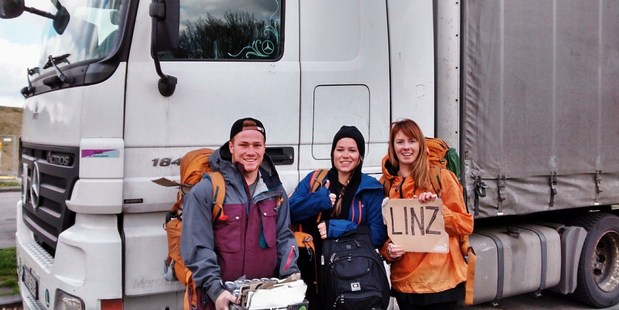 Trading cans to fund travel for a week from London to Berlin seems like an impossible task, but today Tauranga-born Tish McNicol and two of her fellow Otago University mates have done it.
Ms McNicol and brother and sister combo Chessie and Finn Henry represented New Zealand, and Australasia, in the "Red Bull Can You Make It?" competition.
The competition involved 100 university teams from 27 countries racing each other across Europe.
They began with 24 cans of red bull, trading them for food, accommodation and travel and earning more by completing challenges at checkpoints along the way.
The seven-day journey started on April 4 and came to an end yesterday when they arrived in Berlin at 1am local time.
Arriving early, the team posted on their blog they had slept in a park when they arrived until they could complete their final check-in.
"We rolled in to Berlin at around 1am this morning and slept in a park next to the checkpoint. We are feeling shattered, hungry and verrry ready for a shower - but so happy to be here!"
All successful teams that made it to the final check in are treated to a well-deserved hotel room and a joint party, "Red Bull style".
Calling themselves the "Freedom Hunters", Ms McNicol said part of her team's strategy was to clearly identify themselves as Kiwis, from their screen-printed tops, to their backpacks, and the New Zealand flag they carried.
They even used their kiwi charm to talk their way in, or out, of some situations along the way.