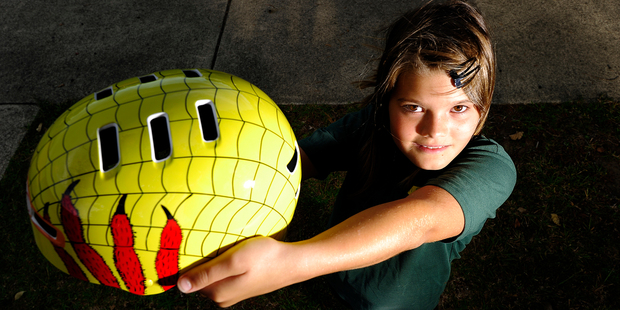 Local primary school winners of the Travel Safe Cycle Helmet Competition were named yesterday.
More than 12 Bay schools took part in the competition, which had more than 700 entries.
The competition was a part of National Bikewise week, with students designing a helmet. The four winning designs were then painted on helmets by local graffiti artists.
Anita Clews, the 9-to-10-year-old section winner, said she was inspired by spiders.
Anita used "bright and easy to see" yellow as the background colour. The spiders' legs were red instead of black just to be different, she said.
Tauranga City Council deputy mayor Kevin Clout said the aim was to raise awareness about helmets' importance. He said 754 students took part from Tauranga and the Western Bay.
Golden Sands School's Liam Taylor was the 5-to-6-year winner and Tiria Mastny the 7-to-8-year winner. Te Ranga School's Fraser Pugh was the intermediate section winner. Ruth Keber