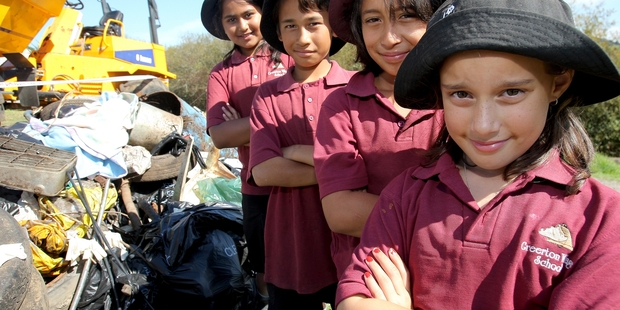 Primary school students from around Tauranga have helped clear almost 10-tonnes of waste.
The day organised by the city council saw 300 children, in gumboots and gloves, clear out a local reserve in Gate Pa.
Pollution prevention officer Toby Barach said the children he worked with yesterday understood the need to protect the environment and reduce, re-use and recycle waste
He said the area cleared of rubbish was only about a kilometre long.
"They would probably get at least 10 truck loads away from here and there is 10-tonne in a truck load."
About 330 Gate Pa, Greerton Village and Greenpark Primary school children took part in the event.
Waterline educator Adrienne Rickey said the main drive behind yesterday's event was to get the children to understand storm water drains were only for rain.
"If they tip rubbish out in the drains and out on the streets it's going to end up in the storm water drains and the streams down here.
"This is an area that a lot of them come and play in and the fact that it is probably people in the community who are trashing it. This is helping them to go home and teach their families how precious it is down here and how nice it could be."
Mrs Rickey said a number of students had asked her when they could return to the park to clean again.
Greerton Village School teacher Mike Shorter said his students could not believe the amount of waste that had build up.
They had been shocked by things people had thrown out.