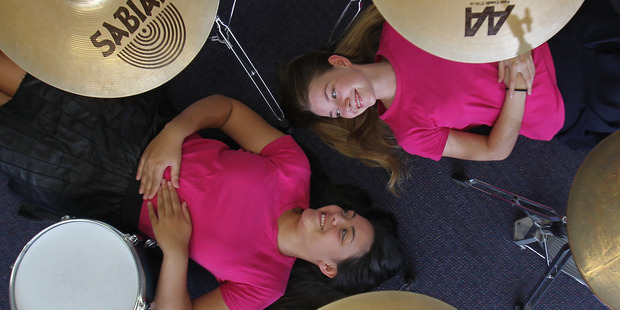 Hundreds of outstanding young musicians from around New Zealand will converge on Tauranga this Easter for the 37th annual National Youth Jazz Competition.
The hottest young jazz talent in the country will hit the stage on Friday, April 18 and Saturday, April 19 to compete in two categories, Big Bands and Combos. They will be overseen by some of the best professional jazz musicians in the business.
For Tauranga Girls' College Year 13 students Tessa Adams and Leilani Taula, Easter is as much about chocolate as it is about their Big Band performance at the festival. Both girls will head to university next year, so this will be their last jazz festival performance as high school students.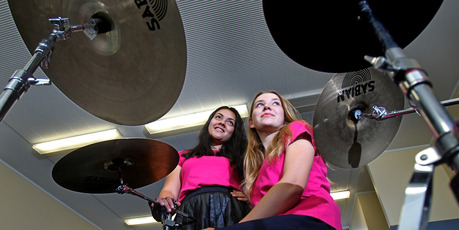 Tessa is a talented drummer and Leilani a celebrated singer. After winning the David Feehan Trophy for Most Outstanding Vocalist at the Tauranga Jazz Festival and the secondary section of the 2012 national songwriting competition for Purple Cake Day, Leilani has proven she excels in any genre.
Both Tessa and Leilani were thrown into the jazz deep end, with Tessa following in the footsteps of Kelly Ballard who now plays for Rodger Fox's Big Band, but her modest comment of "not being anywhere near as good as Kelly" is misplaced as she won best drummer of Jazz Festival last year.
Leilani, too, won best vocalist when she was a Year 11 student, although at that point "scatting" was a new vocabulary, or lack of.
"It's like creating art instantly," Leilani says.
'What's just done is gone in an instant. It's beautiful."
The young musicians were introduced to Big Band in their junior years of college.
Although both Tessa and Leilani have played to big audiences over the years, they still agree that being thrown into the jazz genre was a terrifying experience.
A genre like no other, jazz is a fusion of all music, according to Leilani.
"It is ever-evolving, but somehow always manages to maintain its essence," she says.
Although neither girl would choose jazz as their preferred listening genre, the ultimate reason they love to play it is how relaxed and less restrictive it is compared with other genres.
Musical director of the Big Band, Murray Mason, said if you get bored playing [jazz] it's your own fault. There is always some new aspect to discover.
Although Tessa and Leilani enjoy the competition, they say Big Band is also about the learning curve of furthering their skills as musicians.
"It's awesome now, being in Year 13, because we were once the jazz babies, and now we get to teach people and help them grow," Leilani says.
"Even for those not fond of the jazz scene, there are always one or two bands that get the foot tapping. Jazz is the sexiest music genre ever."
NATIONAL YOUTH JAZZ COMP
WHERE: Baycourt, 38 Durham Street, Tauranga
WHEN: Friday, April 18 and Saturday, April 19, 9am till 4pm
COST: Day passes, $17, half-day, $10. Children under 12 are free.
- with Martine Rolls