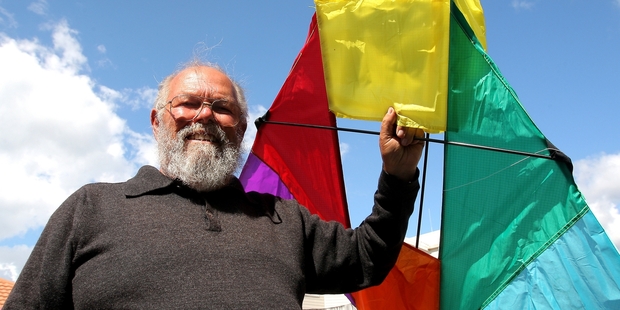 Every kite is different - and Jamie Moore should know because he has spent the past 12 years making and flying them.
You can usually find the expat Canadian flying his colourful creations at his favourite spot, Fergusson Park.
Mr Moore, an ex-rally car owner, driver and builder, says his passion for kites began after he met a man at the park who suggested he might enjoy flying the sky-bound creations.
Mr Moore has now owned more than 200 kinds of kites, many of which he created.
"I've got every shape and style of a kite that you can dream of. They are all unreal," he says.
"It sounds silly but each kite varies, the flying characteristics are different. Some kites fly in bugger-all wind and some kites fly in extremely windy conditions.
"I have two four-line kites and then 25 different types of deltas. Delta is a shape but the majority of kites are on just a single line [and] that's where you learn to fly."
Mr Moore's favourite takes the form of a ghost.
The kite, which he made, is 6-7 metres long.
He does not know how much he has spent on his hobby but each kite cost between $40 and $600.
He heads to Fergusson Park three days a week to pursue his pastime and each session lasts about six hours.
"I just really enjoy it there. I should be out today. It sounds silly but the park is the best place to fly them [because] there are no houses or trees.
"It is just 43 acres of park and it's good to hit the good spot when you're there."
Mr Moore says he has met 300 to 400 people at the park while flying kites.
At its peak, his collection stood at 220 kites but after he made some trades recently the total is down to 150 or so.
However, he says he's "only a beginner compared to some of the other kite people, I've only been doing it for 12 years".
He is a car fanatic too and owned the first Mustang in Canada in 1965.
"Racing cars was my life but now kites are my life. I love it."