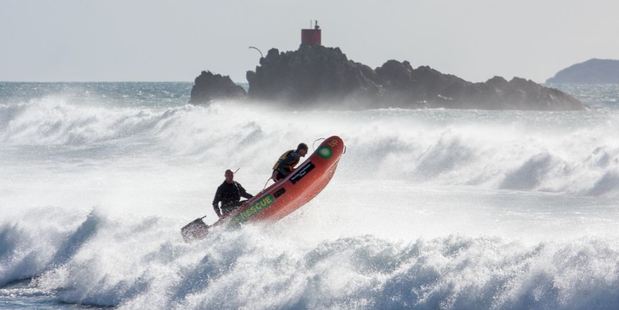 Mount Maunganui lifeguards experienced some of their busiest days of the summer at the weekend.
Lifeguards rescued two swimmers an boogie boarder and a surfer on Saturday. On Sunday, they rescued a swimmer, kayaker and surfer.
Seasoned lifeguard Kent Jarman who was involved in some of the rescues said there was definitely a pattern of people being "caught out" in conditions that were outside their capabilities.
If there was a common theme this weekend it was of people who don't have a lot of surf experience, going out and getting in trouble one way or another," he said.
Although the surf was large with 2 to 3m swells there were long breaks between sets and Mr Jarman said this might have fooled less experienced surfers and boogie boarders into thinking they could handle the conditions.
"At times, for about 5 to 10 minutes the conditions would look quite settled with not much of a wave breaking and then a couple of sets would come through and the next 10 minutes or so would see pounding surf a strong sweep along the beach and the leisure Island rip in particular sucking all that water back out to the depths."
Mount Maunganui Lifeguard Service patrol captain Dani Shepherd said there was a strong groundswell which created a powerful sweep and rip on the beach.
This combined with sunny skies, high tides during the middle of the day increasing the power of the shorebreak, and people going out in conditions that exceeded their capabilities.
Ms Shepherd said volunteer lifeguards made half a dozen rescues and performed many preventative actions over the weekend.
"It is unusual for us to perform that many rescues over a weekend here, and if it wasn't for the very strong preventative focus that our lifeguards had over the weekend, really working hard to keep people out of trouble before it happens, there could have been many more," she said.
Ms Shepherd said the message to people remained the same: "swim between the flags, never swim alone, know your limits, if in doubt stay out".
"As well as that, don't be shy to have a quick word to the lifeguards and ask about the conditions. These guys and girls are volunteers here to help and are more than happy to point you in the right direction and offer advice."
Volunteer patrols continue at Mount Maunganui Main Beach on the weekends through until April 6.