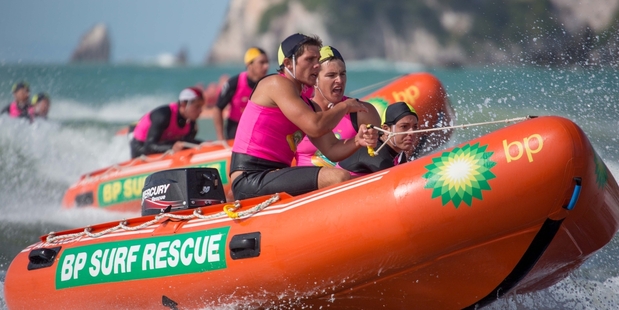 An emphatic Papamoa performance at the BP Surf Rescue NZ IRB championships in Whangamata has seen the Bay of Plenty club prise the overall club trophy away from Taranaki hands for the first time in nearly a decade.
Amid a difficult final day in tricky, blustery onshore conditions and heavy seas, Papamoa only picked up one win - an under-21 single rescue win by Michael Hoebergen and Nick Coulter - but their total team performance was enough to lift them 27 points clear of defending champions East End.
"It was all about consistency for us - we told the guys just to keep making finals and then see what happened from there," Papamoa coach Justin Martin explained. "That's exactly what they did and I'm so proud of them. I'm super, super happy at the moment."
In an illustrious 20-year racing career, Martin twice missed out on the overall prize with his former Wainui club so was thrilled to finally claim it, alongside long-time crewman Nathan Teutenberg.
It was doubly emotional for Coutler, dedicating his single rescue win to his grandfather, who passed away last week, while the team were boosted by the return of twins Kirby and Chad Wheeler and Mitch Brady, who cut short travels overseas to come back and race.
Papamoa's first-ever overall honours broke a run of five straight wins by East End, with fellow Taranaki club Fitzroy winning three in a row before that. Sumner (2000 and 2005) and Spencer Park (2003) are the only other non-Taranaki clubs to have won the title since 1996, while Papamoa's victory is the first by a Bay club since Mount Maunganui won consecutive crowns in 1990 and 1991.
Sumner's Steven Parrat and George Thomas were the big movers on the final day, grabbing both the premier single rescue and assembly rescue finals, which helped lift their club into eighth overall.
Papamoa's rookie premier crew of Tomee Berthelsen and Liam Smith - the latter a 16-year-old Tauranga schoolboy - stunned the more established rescue boat crews with victory in the mass rescue final.
But they needed a fair bit of help, most notably when East End's Geoff Cronin, comfortably in front, tripped and fell inches from the line, allowing Berthelsen through.
"Going through my mind as I was running up the beach were some wise words from our coach Justin Martin, who told us at the start of the day 'never give up' so I just kept going right to the end," 25-year-old Berthelsen said. "You never know what's going to happen in surf and this result showed it.".