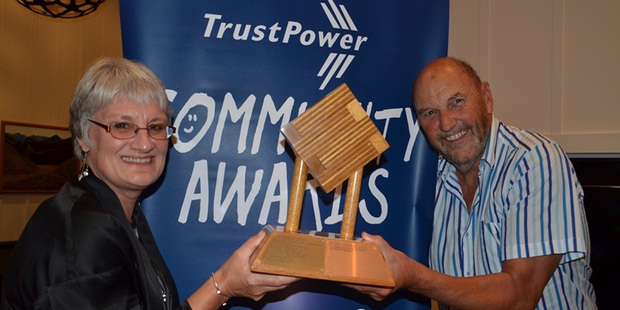 Katikati Theatre won Trustpower's supreme title at the Western Bay of Plenty Community Awards last April and now two members head south to Invercargill to wow the judges and bring home the national title.
The event is being hosted by Invercargill City Council and Southland District Council this weekend with 25 other regional winners making the trek south. The awards initiative is the country's largest recognition programme for voluntary groups and organisations.
Katikati Theatre chairman Dave Woodhouse and Julie Thomas (previous chair) say everyone is excited about the awards.
The small group started four years ago. Almost all of their plays, such as their first Barry, then Gallaher (about rugby player Dave Gallaher), Come into the Parlour and their dinner theatre shows, have all been sellouts.
Katikati Theatre sent a 1000-word submission as part of its presentation for the national awards.
The other part is an eight-minute live performance by Dave (who portrays Barry) and Julie, in which Barry comes to life. Images from past productions are displayed on a screen as these are mentioned in the script.
Western Bay Mayor Ross Paterson will be there to introduce Katikati Theatre and Dave (dressed as Barry) and Julie, who takes a seat alongside Barry on his bench (on stage) as if needing to catch her breath.
"Think I'll just take a wee break, Barry, and sit beside you. I've been rushed off my feet lately.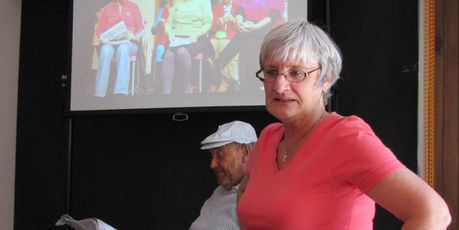 "Sometimes I don't know if I'm Arthur or Martha! It's been a very busy time, the past four years.
"I'm a member of Katikati Theatre - great bunch of people.
"We've had some fun with our productions. You get to know people when you are involved in a production. We've got all sorts, doesn't matter what our background or experience is - we just want to see live theatre in Katikati.
"Our volunteers help in all aspects of theatre, like sewing costumes, building or painting sets, hanging lights, making cups of tea, and meeting and greeting the audience.
"Our first production was about you, of course," says Julie, looking across at Barry.
"That was clever the way we recreated you, with your bronze face and hands, your clothes and dog and everything," to which Barry replies, "I know."
"What," says Julie, looking sideways at Barry, shocked and surprised at his words and that he is "alive".
"Glad I inspired you," Barry says.
"You did a great job with that first production. Who wrote it?"
Julie replies, "I did, we all did - it was created from workshops. We just imagined what a typical day was like for you."
During the conversation they chat about the various productions and dinner theatre shows and A Christmas Carol.
"Yes, we performed that in one of the oldest wooden churches in the area. It lent a great atmosphere to the production which really brought the classic Dickens story to life," says Julie.
"Well, you've certainly mounted a variety of productions from what I've heard. I read about them all in the Advertiser, you know," Barry says as he waves his newspaper.