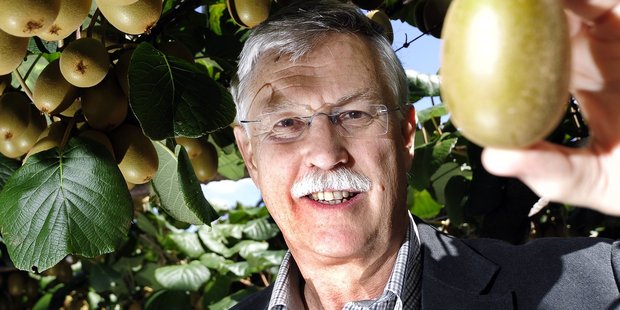 Zespri predicts gold kiwifruit volumes could be up 40 to 50 per cent this season and may reach pre-Psa levels as early as next year. A frost in Chile in 2013 that has potentially wiped out almost half of its kiwifruit could also bode well for local growers.
General manager of grower and government relations and China GM Simon Limmer said indicators were positive for an increased harvest, however tallies could not be confirmed until fruit was off the vines.
"It's still too early for specific numbers, but there may be a 40 to 50 per cent increase this season."
In 2012, 11 million trays of gold kiwifruit were exported compared to 30 million in 2011.
The industry was "not out of the woods" and growers were still focused on battling Psa, however kiwifruit volumes were rebuilding, he said.
"We are rebuilding volumes this year with an ongoing expectation that we are going to be back to pre-Psa levels quickly, potentially as early as 2015.
We have got 4500 hectares of gold in the ground today and could expect to see 50 million trays in the next four or five years."
The new gold variety was also bearing good tasting fruit and showed signs of high productivity and yield, he said.
The markets were looking strong because there was a deficit of kiwifruit coming out of Chile, he said so that would drive demand.
"The frost has potentially removed about 50 per cent of their crop so they are going to be relatively absent in many of the markets predominantly focused on Europe, North America and some of the Asian countries."
Green kiwifruit volumes could be slightly down on last season when 69 million trays were exported, he said.
However, due to more growers transitioning over to gold, market demand remained strong.
The Zespri brand was one of the strongest in the fruit industry around the world and it was continuing to pay dividends, he said.
New Zealand Kiwifruit Growers president Neil Trebilco said he attended a series of grower meetings with Zespri and confidence was high.
"There is a real positive mood among growers.
"They are in a very good space and I'd say they are in the best space they have been in for years in terms of industry and prospects on their own orchards."
Optimism had returned with higher per tray returns, rises in orchard values and the banks allowing growers to reinvest into their orchards, he said.
New investors were also taking an interest in kiwifruit.
"We are certainly getting lots of inquiries and I have personally been receiving calls from people who aren't in the industry at the moment but want to buy in and that is exciting."