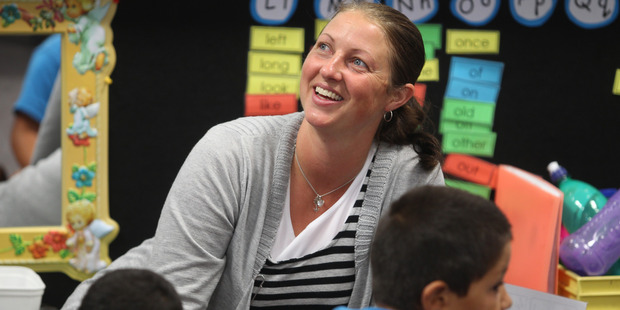 Esther Geerlings commits her whole heart to teaching.
The Maketu School teacher was nominated by her colleague Bella Rapana for the Bay of Plenty Times Awesome Teachers series after being impressed by how committed Miss Geerlings was to her job.
Sitting in on a class, it was not hard to see why Miss Geerlings was nominated.
She sat on the mat with a small group of children, reading them a book about plants and asking questions related to what they had heard.
"How do seeds get planted if a person doesn't plant them? What did the book teach us?"
The rest of her year 1 and 2 children gathered quietly on desks to complete handwriting exercises, proudly coming up one at a time to show Miss Geerlings their work.
"Oh, that's lovely. How about next time we work on using finger spaces?"
After their practice, the children gathered on the mat with Miss Geerlings where they sang nursery rhymes while she played her guitar.
The story of Miss Geerlings' teaching career began back in her high school days when she was deciding what to do when she left.
"I applied for wine making, hairdressing and teaching and got into all three courses. I chose teaching because I thought it would make the most money," she laughed.
Thirteen years later, although she did not choose the most lucrative job, she enjoyed what she did.
"I just love helping the children succeed. That's probably what I like most about it. You have to love what you're doing and love the kids."