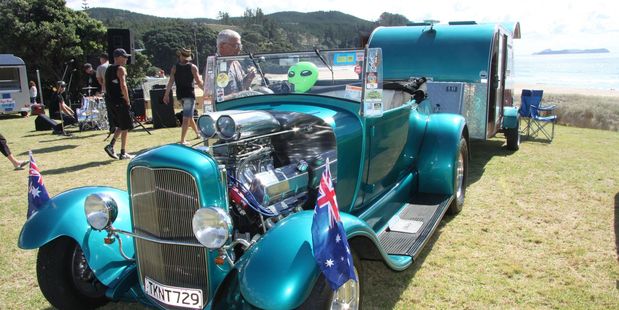 Whangamata Community Board has injected an additional $10,000 into this month's Beach Hop, effectively taking over the infrastructure costs associated with the event.
Beach Hop is one of the largest events in New Zealand, with a complex logistical mix of people and vehicles.
Every year the Community Board pays between $6000 and $8000 to Thames-Coromandel District Council contractors, Smart Environmental Limited. The money helps to maintain rubbish, toilets, roadways and parks for the 100,000 visitors who attend the event at Whangamata, Tairua and Onemana.
The council will now also pick up the costs for barriers and portaloos for these venues.
Beach Hop spokesman Noddy Watts said organisers were really excited about the support the event was getting from the council.
"It's a recognition of all the hard work we've done over the last 13 years.
One of our biggest expenses is the infrastructure cost, and to have council support to assist with those substantial costs is a huge plus for us."
Mr Watts said the Community Board was confident the community would support the initiative, as it allowed Beach Hop organisers to invest in added value activities associated with the event, rather than infrastructure.
"It is a two-way street though and Beach Hop has supported the council's Whangamata Area Office in designing an economic impact survey for the event."
The survey will be linked to the Beach Hop website and and visitors will be invited to complete it online. It will open a week before the event and close mid-April.
This year's Beach Hop starts on Wednesday, March 26 and runs until Sunday, March 30, but participants and spectators begin arriving for related activities from Friday, March 21.
Ultimate passes to the event sold out in 36 hours last October, and special guests this year will include Bill Haley Jnr (son of rock'n'roll legend Bill Haley) at the Repco Tairua Beach Party, V8 Supercar legend Greg Murphy with his classic Mopar (leading the Castrol Edge Thundercruise to Onemana Beach on Friday, March 28), and actor Shane Cortese (Outrageous Fortune, Nothing Trivial and Shortland Street).
The grand parade will be held on Saturday, March 29.
The popular annual event will also include markets, drive-in movies, bands, classic car shows, retro beauty shows, a retro caravan show, a swap meet, burlesque and rock'n'roll.
For full details of the event, including an event schedule, visit: http://www.beachhop.co.nz