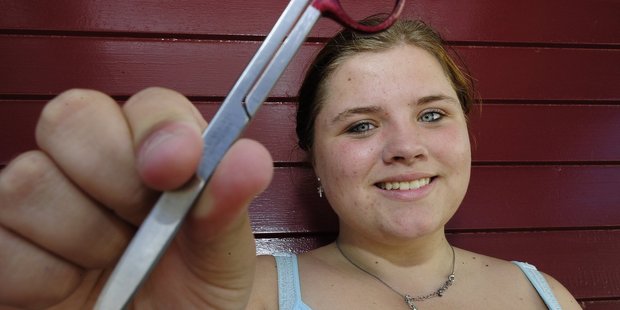 Cas Allen is in for a radical make-over.
On Monday, the 16-year-old is shaving off her long locks in support of a 4-year-old diagnosed with a rare form of leukaemia in January.
Alicia Steenson is undergoing treatment for Stage 4 Burkitt Lymphoma in Starship Hospital. Her parents believe the illness may be linked to methamphetamine contamination in the house they rented.
Miss Allen is friends with Alicia's older sister and has been following the family's battle.
"I used to babysit for them. When I found out she had cancer, I decided to do Shave for a Cure," she said. The Otumoetai College student had no worries about having her head shaved.
"I'm not nervous or anything. I'm excited."
She had already raised about $500 through sponsorship and selling chocolate. Some of the money would go to the family and the rest to Leukaemia and Blood Cancer New Zealand.
More than 20 people, and a dog, were registered to have their heads shaved off for Mount Bald Beach on Saturday.
Already the group has raised about $32,500 for the Child Cancer Foundation.
For the third year running, hairdressers will shave heads at Mount Main Beach from 11.30am on Saturday.
The Child Cancer Foundation would also hold The Great Strand Shave-Off on March 30.
Hospitality staff from along The Strand would have their heads shaved in Masonic Park from 2pm. Donations could be made online or on the day.