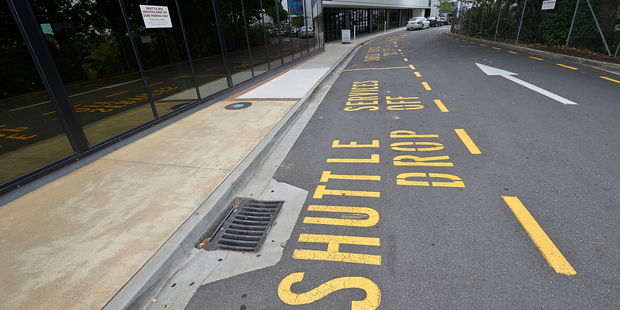 Taix drivers picking up wheelchair-bound passengers from Tauranga Hospital are struggling to find parks with enough space.
NZ Cabs taxi driver Rob Morris arrived at the hospital to pick up Greerton man Peter McTavish, 43, in his van on Monday last week only to be told he had to park in the taxi rank.
Mr Morris had been using the shuttle bus parks, which were bigger and allowed room for the hydraulic lift to be lowered at the back and passengers loaded.
Mr McTavish had congenital cerebral palsy so was confined to his wheelchair and was often at the hospital getting treatment for on-going kidney problems.
"I'm really disappointed in the hospital," Mr McTavish told the Bay of Plenty Times. "The last incident happened on Monday morning when my taxi driver was asked to move on when he simply was picking me up ... and told if he was seen parking there again he would be towed away."
The driver came up to the ward to help get him and his belongings down and was told off when he returned to the van again, Mr McTavish said.
A Tauranga Hospital spokesman said the problem arose because the St John Ambulance shuttle had been unable to park and offload its passengers in its designated space while taxi parks remained unused.
Mr McTavish said he had encountered parking problems at the hospital over the past two years.
"I would like to get an apology at least, if not for me for poor old Rob from NZ Cabs who was just doing his job," he said.
He had spoken to hospital staff about the problem several times but nothing was being done, Mr McTavish said.
"This is why I'm going public. I'm sure I'm not the only person this affects."
Mr Morris said the problem was frustrating as it was illegal to leave a taxi unattended in a taxi stand while he picked up his passengers.
"It's not like I can just pull up anywhere. We've got to have a certain amount of room."
NZ Cabs manager Bruce Rainey said the problem stemmed from changes made at the hospital when the taxi stand was installed.
"It's something that should have worked in theory but didn't work in practice," he said.
"They used to just go in to the entrance. The taxi ranks there aren't really good for the total mobility vehicles because they need 3m to load and unload the clients. They have to go in to the front door."
The Tauranga Hospital spokesman said there were four allocated taxi spaces in front of the shuttle parks.
"The vehicle was parked and unattended for over 10 minutes and, during this time, the shuttle bus arrived to drop off patients and was unable to. The St John shuttle transports patients, normally disabled patients, from their homes to the hospital and the spaces allocated for this service are clearly marked, as are the taxi spaces," he said.
"The shuttle driver sought the assistance of hospital security staff to have the taxi moved on. The taxi driver took exception when he was requested to move his vehicle into one of the allocated taxi spaces and told if he parked in a similar fashion again he would be towed."
There were also 11 disabled parking spaces in the main carpark in front of the main entrance, he said.
Help getting patients in and out of cars and to the hospital could also be requested at the main reception.