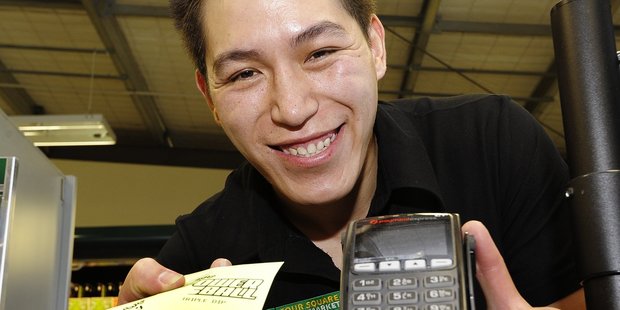 Papamoa Beach Four Square is proudly celebrating its first major Lotto win after selling a first division ticket.
The lucky ticketholder will share the prize with three other winners from around the country, taking home a total of $200,000.
Senior store staff member Simon Chuah said the store had a busy morning yesterday as locals came to see if they held the golden ticket.
"Customers were coming in first thing in the morning after reading it online. That's how we found out." Some nervous and excited customers had been coming in. A lot more people than usual were checking their tickets on a Sunday.
Mr Chuah said the store opened about three years ago and this was its first big win. "We hope it goes to one of our locals. We have a lot of regular customers who do a lot for the community here." He said it would be nice if it was one of those regulars who won.
All the staff were excited about selling a winner, Mr Chuah said.
Local woman Robynne Klatt was checking her tickets at the self checkers when the Bay of Plenty Times visited the store.
"We've been buying our tickets here since the store opened. When I walked in the store, the staff told us they'd sold a winner so I checked my tickets but I didn't win anything.
"It feels good when your local shop wins a big prize. When you go for a while without winning anything you often consider going somewhere else, although we never have."
An Auckland ticket scooped the $26.2million Powerball prize, sold at Willy Wonka's in Auckland Central. That was the sixth-largest prize in New Zealand Lotto history.