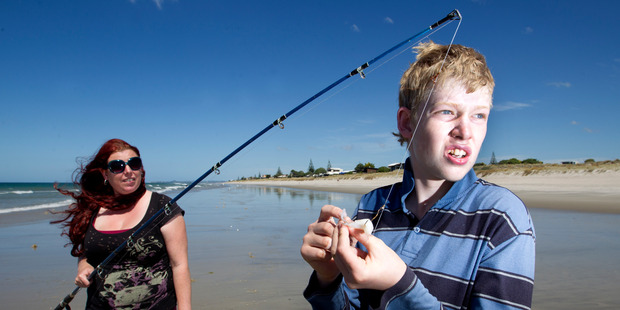 A 45-minute tussle with a large shark has given a Bay of Plenty teenager the ultimate fisherman's tale - not to mention a few sore muscles.
Reuben Martin landed the catch of a lifetime when he hooked a 2m bronze whaler from Papamoa Beach last week.
The Te Puke 17-year-old, who has autism, was visiting the beach on Thursday evening when some local fishermen gave him a turn behind their heavy-duty surfcaster.
Soon after, the line shot off into the surf and Reuben had to be held so he wouldn't be dragged out.
Grappling the graphite rod up and down the beach, and strapped in a harness, Reuben had to muster all of his strength to bring the large shark - thought to have weighed 160kg - in by himself.
"It was a pretty big strain for him ... he's still got pulled muscles from pulling it in," said sister Rebecca Martin, who arrived in time for the end of the battle.
Once Reuben brought the shark into shallow water, the fishermen helped hold it down and open its jaws.
"When we got it in he got to pat it and touch it ... he was saying it was so awesome, and the shark was so beautiful - he was pretty excited to be that close to it."
After carefully removing the hook from its mouth and taking a few photographs to document the big catch, they let it loose.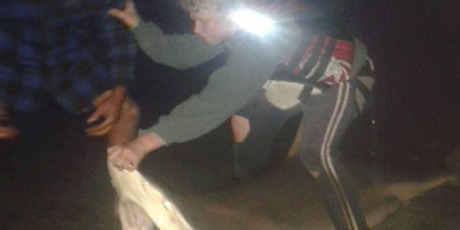 "It shot straight back out to sea again."
Her brother, a keen fisherman, hasn't stopped talking about the experience.
"He's been calling people in Australia and the pictures are all over Facebook now. He's pretty stoked."
Despite a pair of sore arms, Reuben had been back down the beach with his fishing rod every chance he could get since.
"He used to just want to catch kahawai, but after the shark he says he'd like to catch a marlin."
Bronze whalers, which can grow to 3.3m in length and weigh up to 200kg, are common along the stretch of beach.
Last week, a bronze whaler thought to have measured 2m sent swimmers scurrying out of the water, but the species are not regarded as a threat to humans.