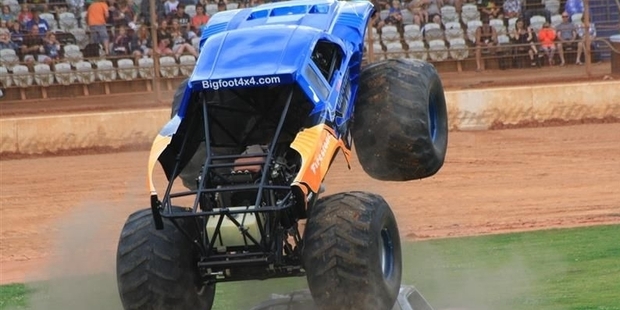 The success of the monster truck show at ASB Baypark has prompted organisers to start planning a show next year twice as big.
The show, held on Saturday night, featured some of the biggest names in monster trucks in Australasia.
With a crowd of about 5000, event co-promoter Scott Anderson said organisers were already making plans to double the number of monster trucks at a return event.
"Due to the success of the event, we're looking at presenting another show in Tauranga in the next 12 to 18 months," Mr Anderson said. "I think if we come back again next year we will look at numbers of around 10,000."
Mr Anderson said this event was a "research and development show" for the organisers to test the market.
"We're more than happy with the crowd that attended for an unknown product. It exceeded our expectations and has put us in great stead to bring a full-blown multi-truck show, possibly in January next year at the soonest."
Saturday's event featured champion monster truck drivers Kreg Christensen, Clive Featherby and Rick Long, who spent the evening crushing cars, competing in a wheelie competition and jumping rows of cars.
At a return event, Mr Anderson said organisers would bring eight to 10 trucks that would be doing things such as jumping buses and other big obstacles.
"We would like to build a purpose race track. We will be back and I think it will be quite a big show."