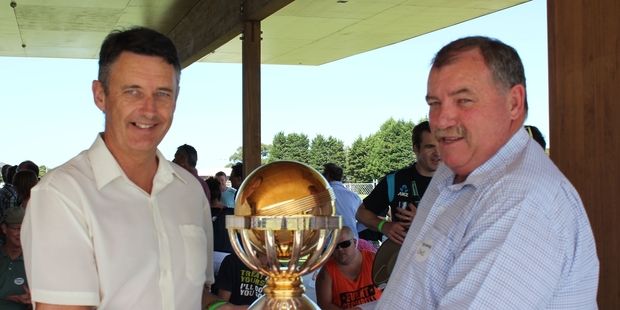 Mount Maunganui's $2 million Bay Oval cricket pavilion was opened by Mayor Stuart Crosby just minutes before the start of the first match to played at the venue.
Prior to the HRV Cup Twenty20 match between Northern Districts and Canterbury, Mr Crosby said the development of the cricket arena and now the top-class facilities of the pavilion were important to the development of sport in the city.
"We are the sixth largest city in New Zealand and growing rapidly," Mr Crosby said.
"We have always struggled a little bit in getting adequate sporting facilities. We have had to invest so much in infrastructure to run the city and sporting and recreation facilities have always been hard to get over the line.
"So the way we do it is in collaboration and co-operation with the major entities and the Bay Oval is a pretty typical example of that. There has been a lot of innovation to get the facility here and to get the funding to get the pavilion finished.
"It is a great effort and we look forward to it growing and developing further. I actually think that this oval will become a premier oval in New Zealand cricket in the future.
"Tauranga has all the natural attributes to be a cricket city."
The Bay Oval will host 11 games in the ICC Cricket World Cup Qualifier 2014 beginning on January 8.
Mr Crosby says the tournament will showcase the oval to an international audience and also encourage other funders to get more development done at the complex, particularly flood lights and other facilities needed for a leading cricket ground.
Bay of Plenty Cricket Trust Chairman Chris Rapson thanked the community groups, volunteers and BoP cricket staff who had played a huge part in the success of the project. "It's a great day for Bay cricket and it's a great day for Tauranga."