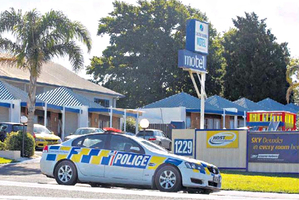 A Palmerston North woman was dead for more than 20 minutes before paramedics managed to resuscitate her after she was found at the bottom of a Greerton motel's pool.
The owners of Cameron Thermal Motel spotted the 41-year-old woman lying lifeless in the hot thermal pool about 4.30pm yesterday.
One of the owners, who refused to give her name, said her husband dived into the pool and pulled the motel guest out of the water.
The pool owner called on the knowledge gained in first aid courses and performed CPR until St John paramedics and firefighters arrived.
"You just have to do it," she said. "There's no way of panicking. You just do what you have to do."
Greerton fire service senior station officer Steve Wright said the woman had no pulse when they arrived but after 20 minutes of CPR her heart was beating again.
"We just assisted with CPR. Our guys were doing the chest compressions and the ambos were hooking her up to oxygen and monitoring her," he said. "She had possibly been without oxygen for quite a long time.
"The prognosis was not great."
St John territory manager Ross Clarke said the woman was taken to hospital in a serious condition.
The motel owner said the woman was staying at the motel on her own and was booked in for a couple of nights. There was no one else in the pool area at the time, she said.
It did not look as if the guest had hit her head, the owner said. Another motel guest, James Schuster, said the first he knew of the incident was when the ambulance and fire engine arrived.
"Some guy saw her at the bottom of the pool," he said. "They were working on her for so long. We could see them pumping for at least 20 minutes. It was pretty scary really. It was actually more sad than scary."
Another guest, Hannah Rock, said one of the owners told her he had looked out of the office and seen the woman at the bottom of the pool.
"He said, 'I think I got there just in time'," she said.
Fellow guest Rebecca Smith said she was afraid the woman would not make it.
"We thought she was going to die. We were freaking out. It was so scary."
Detective Sergeant Alan Kingsbury said police were investigating what had happened to the woman.
Officers were making background inquiries and speaking to motel guests and management but it was too early to comment, he said.
A Tauranga Hospital spokesman said the woman was in a critical condition in the intensive care unit last night.