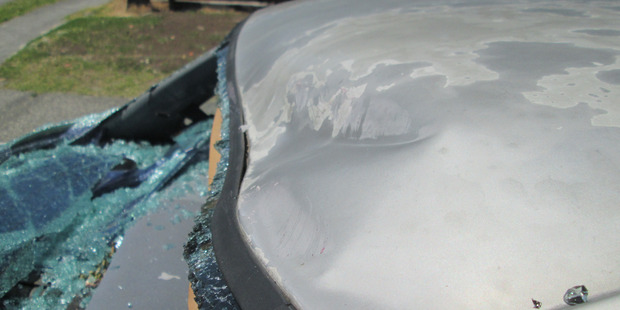 A Thames mother whose car was destroyed while she visited friends in Papamoa is hoping for a miracle to reunite her family for Christmas.
The woman, who wants to be known only as Melissa, and her two daughters were staying with a family friend in Domain Rd for the weekend when their Mitsubishi Magna was wrecked, its roof dented and windows smashed.
How the car was destroyed around 1pm on Saturday is a mystery but it is now undrivable. She is hoping someone might give them a car for Christmas so they can go home.
Melissa's friend, Maria, who also did not want her last name published, said the family deserved a miracle.
"We have had people offer to drive them home for Christmas but they live about 12km out of Thames in the bush and once they get there they will be stranded, so what they really need is a car. It would be a Christmas miracle, but they deserve it. "They have had a rough time lately. They only recently buried their eight-week-old baby and things have been hard.
Then this happens."
Maria said she was gutted that it had happened while she was visiting the Bay. "I always tell her how nice it is here," she said. "The girls are crying because they want to go home and see their dad but they can't go anywhere... The car was not insured and they are in a really tough place. They just want to go home."
If you can help, call the Bay of Plenty Times on 577 7770.