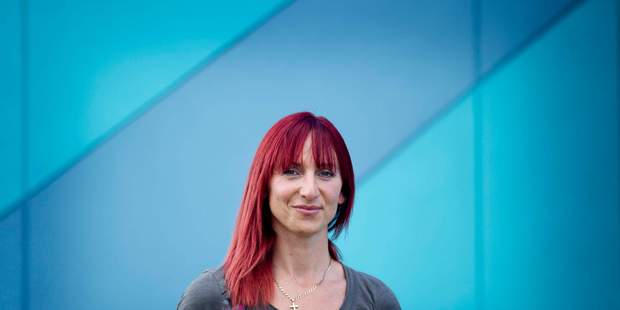 Less than a week after injuring her shoulder taking down a man with a sawn-off shotgun, an off-duty policewoman dived into a river to save a girl from drowning.
Whangamata constable Jayne Dowling was still nursing a strained rotator cuff when she visited Cambridge on Sunday for some sightseeing with her partner.
Ms Dowling, a 39-year-old recruited from Britain, was wandering along the Waikato River taking photos when she noticed some young people in the water and felt something was amiss.
"We could see three girls across the river on rocks. I don't know how they got across there. The undercurrent was strong and the river was swirling.
"We were just about to leave and I saw the girls get in the water. Something just made me wait and watch."
Quickly, it became clear the girls were in trouble.
Ms Dowling - a former British age-group swimmer, one-time England rugby player and New Zealand bodybuilding champ - jumped into action.
"One of the girls just started coughing and spitting. I just thought, 'Something is going to go wrong here.' Then they all started screaming, 'Help us, help us,' and I just ran for it."
Sprinting about 50m down a bank to reach the water, Ms Dowling - also a qualified lifeguard - ditched her shoes and dived in wearing her dress.
Two of the girls had reached the near shore, but swam back out to help their friend. They were probably only 5-10m from shore, Ms Dowling said, but were unable to make it back.
"It was almost like an eddy, the water was just swirling around. I could see them trying to swim but it was just pulling them back to the middle of the river. The two girls were trying to hold their friend up.
She was swallowing water and choking."
Ms Dowling and another woman swam out to the trio. The constable told the two girls who could swim to head ashore; the other woman helped them.
Another woman on the riverbank called 111 and ran to get lifejackets from a nearby jetboat operator, while Ms Dowling put her swimming experience to work, dragging the struggling 13-year-old through the water.
"My energy was draining big-time. The lady was standing on the shore holding a lifejacket and I said, 'Throw me that.' That gave us just that little bit of buoyancy to get us back to shore."
The teenager was treated by paramedics at the scene, then taken to Waikato Hospital.
Ms Downing's boss in Whangamata, Sergeant Vince Ranger, felt her heroic action was typical of her.
"The Waikato River in places can be quite treacherous ... To put yourself in a position where you're swimming out to save people, that's quite an exceptional thing to do.
"There's no doubt about it, her actions have made an impact on the lives of those girls and their families. Had she not responded in that way, we might well have been dealing with a tragedy."
The offender Ms Dowling subdued the previous Monday was arrested after crashing a stolen car in Waihi. He had a sawn-off shotgun with him.
- NZ Herald