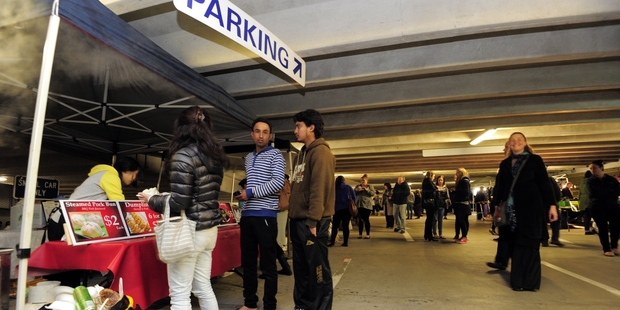 A Tauranga night market has been put on hold until organisers and the city council can agree on venue and management fees.
The Kiwi Night Market started on August 31 and has been held every Saturday night in the Elizabeth St parking building. However, last Saturday's event was postponed with organisers posting on Facebook saying an "upset with council" was preventing the event from going ahead.
The post read: "We have some super sad news for this week's market we have had a upset with the council and will not be having a night market on Saturday - we must postpone as we can't proceed till council has decided what's happening - I am sorry to be the bearer of this sad news but our hands are tied."
A Tauranga City Council spokesman said the council had been providing support and assistance to the operators of the night markets since they began in late August.
"This has included use of the carpark building at no cost for a period of time, assistance with licensing and management of the food stalls and other support.
"The event owner is now being asked to pay costs to cover power and staffing. This is only fair as the markets are a commercial enterprise."
The council had been working with the event owner to establish an appropriate level of fees, but this had proven difficult to resolve.
"We will continue to be in contact with the event owner, but are uncertain of the final outcome at this stage."
Kiwi Night Market director Ross Rumble told the Bay of Plenty Times he did not want to talk about the cause of the postponement.
"I just don't think it needs to be out there in the public," he said.
"I really just need to hear from the council so we can sort it out."
Mr Rumble said his business partner had been the one dealing with the council.
"We haven't heard from them. They haven't returned our calls. I just want this resolved. I guess I'll have to ring them myself."
Mr Rumble said the night market being put on hold was a major setback.
"It was just starting to build up and get more popular," he said.
"This is not a great time for this to happen. Especially with Christmas just around the corner."