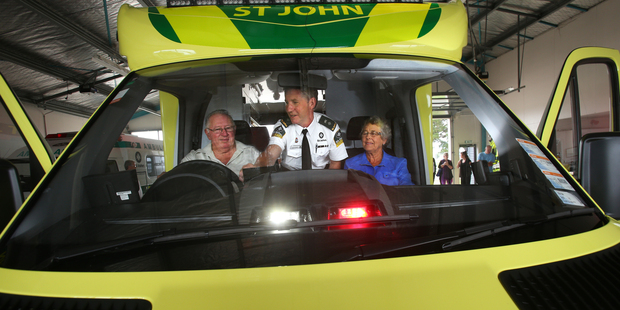 A Tauranga man who had a quadruple bypass wanted to do something to say thank you so he paid for a new ambulance the first of its type in the region.
Mike Lambert underwent heart surgery 12 weeks ago and before he even left hospital he was planning what he could do to show his appreciation.
"I said, from my hospital bed, 'Can you find out who we speak to in St John? We want to buy an ambulance'. [The doctor] thought I was still away with the fairies so was looking to [wife] Judy for confirmation, which she gave. We've wanted to do it for some time," Mr Lambert said.
"It's not just for St John. It's for the whole health system. We just wanted to say thank you and that's how we did it."
Mrs Lambert said the couple had always supported St John and had been considering the $155,000 donation since they sold their business.
St John central region district operations manager Jeremy Gooders said he was asked to visit the couple to discuss a possible donation. "They said they were considering funding an ambulance.
"I replied saying, 'Absolutely, although they are quite expensive'. Mike said, 'Fine'. I told them how much and they said it was a deal."
Mr Gooders said it was one of the largest single donations he had seen in his many years with the service and said St John hugely appreciated their generosity. "It helps our budget enormously. We operate under very tight financial conditions. It's helpful for St John and it's helpful for the community."
The new ambulance is the first of the new-look yellow vehicles in the central region.
The traditional white ambulances will be slowly phased out during the next few years and replaced with the more visible yellow ones.
"It's statistically proven to be safer. It's more easily seen by the public. It makes it safer for our drivers, safer for the people we're transporting and safer for the public," Mr Gooders said.
It should also help to cut down on the amount of time taken to respond to calls for help, he said.
"Yellow vehicles are the most noticeable on the road, particularly in low light. Yellow is also the most visible colour for people with colour blindness, which affects an estimated one in 12 men and one in 200 women."
As part of the new design ambulances are bolder and have been fitted with more reflective signage than on the white vehicles.
Last year in the St John central region, which stretches from Wellington to North Waikato, staff attended 120,160 emergency incidents and treated and transported 139,589 patients.
During the next 10 years the fleet will be converted to yellow at a rate of 40 vehicles each year.
The ambulance was blessed and commissioned on Friday morning and put to work on Saturday.