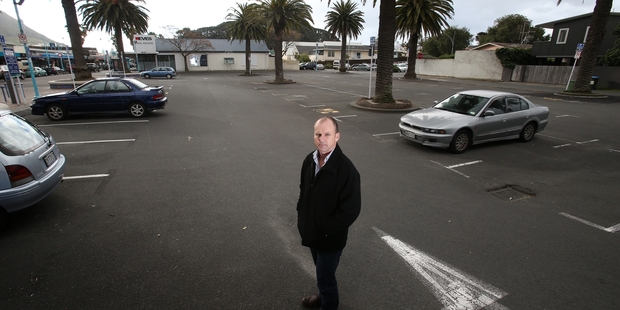 Mount Maunganui's Phoenix carpark is to be reborn into a trendy "urban green space" that could feature fountains, gardens and an outdoor movie area.
The Tauranga City Council yesterday voted to include a proposal to redevelop the carpark in the draft 2014/2015 Annual Plan; a move which has the backing of local retailers and developers but has raised concerns over a possible parking shortage ahead of summer.
The green space is an alternative to a previous joint venture proposal to build more shops at the site. The retail hub was originally planned as a way to ease some of council's debt but was considered unprofitable. Council staff recommended the site be transformed into an inner-city green space.
Development funding contribution in the draft 2014/2015 Annual Plan would be used for the purchase of the front area of the Phoenix carpark site.
Mount developer Bain McDonald, who introduced the proposal to the council this year, spoke again yesterday, saying the space would become a venue for a "wide variety" of community activities.
"The park will also draw people to the Mount and keep them there," he said. "This proposal is not a playground. This is a place to relax, a place for activities, markets, concerts, outdoor movies and so on.
"It is a space for workers as well as vacationers and because of this it will add to the experience of being in the Mount."
Mr McDonald favoured a design competition to seek the best concept.
Councillors Catherine Stewart and Rick Curach raised issues surrounding the project, including carparking shortages.
Staff said work on a long-term comprehensive carparking strategy for the area was on the agenda once they had the staff and budget resources.
Cr John Robson described the proposal as a "classic win-win".
Mayor Stuart Crosby told the Bay of Plenty Times the council would set up a programme of community consultation over summer, when the Mount was busy with locals and visitors.
"We want to gauge as many ideas about the space as possible," he said.
"This is a blank canvas, a great space that we could do anything with but first we need to know what the community wants. It could be anything."
Mr Crosby said he would like to see something with "local flavour".
The cost of the project will be estimated during the design process, Mr Crosby said.