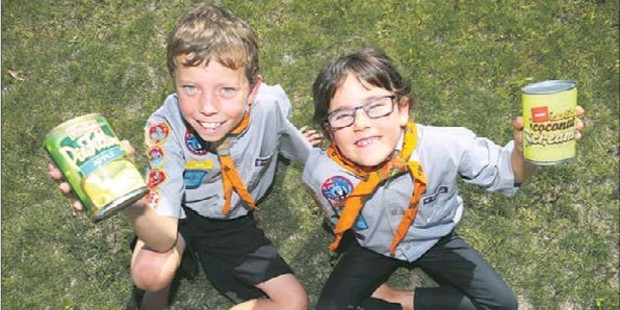 Young Scouts are asking Mount Maunganui residents to be prepared to help those in need next week.
Arataki Omanu Cubs and Keas will be knocking on doors asking for donations of food to go toward the Bay of Plenty Times Christmas Appeal for the Tauranga Community Foodbank.
Kerry Machirus, mother of Taylor, 8, and Lily Finch, 7, said the club was getting behind the appeal after following its progress in the newspaper.
"We want to do something for our community. That's what Scouts do," she said. "The foodbank is an awesome cause."
The kids, aged between 5 and 9 years old, will be supervised by parents as they knock on doors around the clubrooms at Moa Park. "Kids in their Scout uniform often get a good response. People just get a bit nostalgic around them," Mrs Machirus said.
Taylor, a Cub member, said he was excited about hitting the streets to collect cans on Monday.
"Poor people can't afford stuff from the normal supermarket so if they go to the foodbank it's free so they get the food they need to survive," he said.
His class at Omanu School was also making and selling kawakawa ointment and would be donating the money they raised to the foodbank.
"We're going to raise a lot of money," he said.
Arataki Omanu Cubs and Keas group leader Chris McCahill said the club had been looking for community projects to be involved in.
"This is another way that the whole den could be involved and do something for the community."
About 20 people would walk Valley Rd, Tweed St and Marine Parade between 6pm and 7pm on Monday.
About $13,000 in cash and food have come in since the appeal began nearly two weeks ago.Amy McGillivray