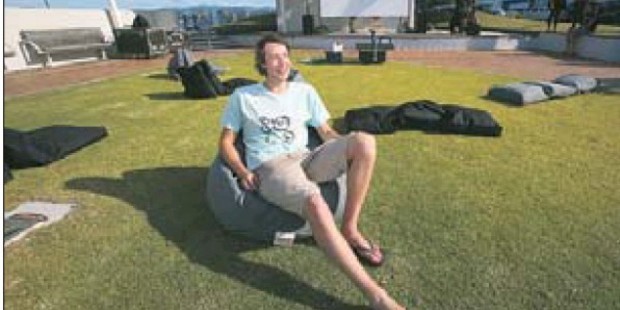 The debut of a waterfront cinema was welcomed with open arms by Tauranga residents, keen to see more events like it in the city.
Last night was the first outdoor, waterfront cinema screening in Tauranga.
The Night Owl Cinema follows the success of the Baypark Drive-In Movie Festival held at ASB Arena's carpark in winter.
A gold coin donation allowed people access to see the movie, Boy, which aired on a screen at Edgewater Fan.
Viewers watched from bean bags, standard seating or the grassy lawn.
The 9pm screening was preluded by The Little Big Markets, which were set up from 5pm and offered entertainment, shopping and food.
Stallholder Tim Donaldson said he was a fan of the outdoor cinema idea and was keen to join others in watching last night's movie.
"It's such a good spot, and the movie is such a good movie, it's a classic," he said.
Mr Donaldson was at the waterfront early selling people tea.
He said he hoped people would embrace the markets and outdoor cinema.
"Hopefully the Tauranga public are keen for something like this."
Karen Putan, who opened Nemo's Kai on the waterfront two months ago, said she would like to see more events such as the markets and outdoor cinema take place there.
"I love it. We definitely need something here regularly, every weekend would be great," she said.
"Not that many people come down here other than the people on their lunch breaks. Sometimes people at the weekend."
Ms Putan said events drew people into the waterfront area and helped create a vibrant atmosphere.
The movie line-up includes Home Alone (December 21, the Christmas market), a people's choice on January 17 (www.thelittlebigmarkets.co.nz to vote), The Princess Bride in February and Carving the Future in March.