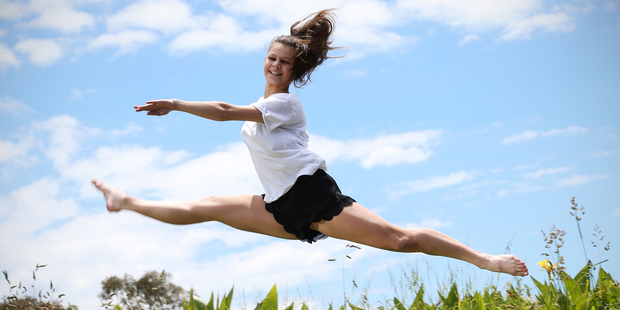 Lichelle Leckner's dreams of becoming a professional dancer will be dashed if she cannot find the money to put herself through an overseas dance school.
Lichelle, 17, began applying for dance schools a few weeks ago to see what her chances were of being accepted.
On Monday, the Otumoetai College student received exciting news, she was offered one of 12 places at the National Theatre Ballet School in Melbourne.
The excitement soon turned to disappointment when Lichelle realised she had no way to pay the roughly $25,000 needed for her first year's study.
The course fee is $8717 and the living expenses were about $300 a week without factoring in her gear and transport.
"It's really huge getting into that school," she said. "It's something I've always wanted to do. I thought I'd finish off my Year 13 year then get into ballet school so I started applying for schools three weeks ago. I heard back from them much faster than I thought I would.
"Now I'm just trying to find a way to get there."
Lichelle said she and her family had been trying to find scholarships, but the only ones she could find were closed.
"So we pretty much have to come up with what you would pay for university but without any student loan or allowance.
"I think there's a pretty slim chance of finding that money."
The course at the dance school starts in eight weeks and the fees are due in six weeks.
"If I can't get the money, I will have to do something completely different with my life. I will have to give up my dreams."
Her mother, Kris Leckner, said her family were not looking for handouts, but advice about which avenues they could look into to secure funding.
"As soon as she found out she got in, we started exploring her options but I don't even know where to start.
"Do I do fundraising? I just don't know how to go about it.
"My husband works in Auckland on a roster so I can't get a night job. We don't own a house to re-mortgage."
Ms Leckner said Lichelle had started ballet when she was 5 and it had always been her daughter's dream to be a professional dancer.
"It's just so fantastic she got in, that first day when she got accepted was so exciting, and ever since then I've been racking my brains to see what we can do.
"There's not a lot you can do in eight weeks."
If you have any advice for the Leckners or any ideas of where they can find help, please contact Kris on krisbutterworth@xtra.co.nz.