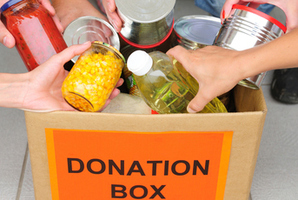 On October 29, I had one of my most satisfying conversations of the year.
I was with Tauranga Community Foodbank chairman Mike Baker, confirming to him that the Bay of Plenty Times would be holding a Christmas Appeal to raise food and money for the organisation for the third year in a row.
As editor of the Western Bay's leading multimedia organisation, I have to make some tough decisions - and they're not always popular.
So it is pleasing to be able to make a decision that will help people who find themselves struggling to feed their families.
More than $120,000 has been raised in food and cash for the foodbank during the past two appeal campaigns, which is a staggering and heartwarming figure.
It is proof there are thousands of generous locals who give what they can at this time of the year. I have participated in street collections the past two years and have been surprised at how generous some people are despite it being obvious they are far from wealthy.
This year's appeal, like the previous two, will run for six weeks, ending on Friday, December 20. The Bay of Plenty Times has kicked off the campaign by donating $1000.
We will be running street collections with the foodbank. Each donated food item will be valued at $1.50.
We also invite schools and businesses to collect food and make it a fun event.
For school children, collecting food items for such a worthy cause can teach them the important lesson that not everyone is as well off as their family, or that there are other children like them whose parents find it difficult to pay for the groceries, and sometimes they have to go hungry.
For businesses, it can be a great morale booster.
Every organisation that takes part will receive credit in the paper for their efforts if they so wish.
We reported on the front page on Tuesday this week that the boom times were returning to Tauranga, with increased business confidence, retail spending and new house builds.
This is welcome news for our local economy, which has taken its share of the financial hit over the past few years. But this will not cascade down to the dinner tables of some families who often - through no fault of their own - find it difficult to feed hungry mouths.
The foodbank gives out about 7000 food parcels each year, which works out to be up to 30 a day. Recipients have a rigorous process to go through to ensure only those in genuine need actually receive food parcels.
It's a number I find hard to fathom. Thirty a day shows there is a real problem in our community with families living below the bread line.
But we can do something about it. We can dig deep and help those around us. We can make a difference.
Giving feels good. I have brought bags of food from my home to add to the collection during the past two appeals and it is good to know I have helped someone, even in a small way.
Even giving a can or two can help make all the difference.
You will read plenty about the foodbank appeal over the coming six weeks.
I hope you can help us help those who really need it.
The other campaign we are running is our search for the Bay of Plenty Times Person of the Year 2013.
We launched this last Saturday and have assembled a judging panel comprising the 2011 winner, Tauranga Detective Sergeant Pete Blackwell, who runs the annual CIB charity auction, and Anne Wyatt, the wife of last year's winner, fund-raising leader Peter Wyatt, who lost his battle with cancer afterwards, plus myself.
We are seeking nominations from readers as we compile a list of who might be worthy of the title.
The criteria is easy: anyone you think has made a real difference to local charities or fundraising, has achieved outstanding success in their chosen business, career or sporting pursuit, or who has demonstrated courageous heroic actions.
This is a good opportunity for Bay individuals, businesses and other organisations to consider who deserves extra recognition.
It was great to be able to award Pete Blackwell and Peter Wyatt the titles over the past two years. Now we need to find the next winner and celebrate their success.
The full details are on page A3 today.