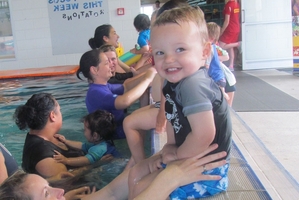 Water Babies is a new programme launched last week in response to the high numbers of young children who are non-swimmers in the Bay of Plenty - a region rich in water play spaces.
The programme is a combined effort by Sport Bay of Plenty, Swimming New Zealand, CCS Disability Action Swim School, Bayswim Swim School, Relationship Aotearoa and Pirirakarau Hauora and provides six free learn-to-swim lessons for babies and toddlers in the Tauranga area.
Water Babies supports community organisations and gives families a fun and safe way to be active together. The programme was set up to provide lessons for those who wouldn't otherwise have the opportunity and the weekly lessons give families the confidence and knowledge to enjoy the water with their under 5-year-olds.
At the beginning of the programme, all parents and caregivers receive a 15-minute workshop from Swimming NZ on how to teach their children to swim and to give them confidence when taking their children swimming.
Water Babies is funded by the Active Healthy Strong Community Partnership Fund and 80 children will have participated by Christmas.