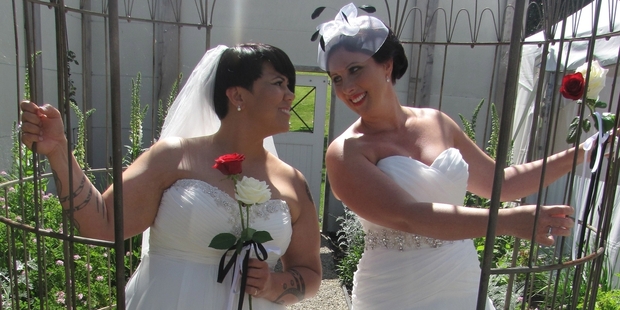 Jessie Matthews, left, married her partner of six years, Sue-Ann Reyneke, on Labour Weekend. Photo / Supplied
Tauranga singer Jessie Matthews is one of more than 100 same-sex couples to tie the knot since changes to marriage laws.
The Marriage (Definition of Marriage) Amendment Act 2013 came into force on August 19 and up until the end of September, 117 same-sex couples got married. Forty-seven of those were couples who transferred from a civil union.
Jessie married her partner of six years, Sue-Ann Reyneke, on Labour Weekend at Ataahua Garden Venue on Pyes Pa Rd.
The couple spent two years planning the ceremony, which had a red and white "Fire and Ice" theme and have now started their lives together as Mrs and Mrs Reyneke-Matthews.
Jessie said it was the first same-sex marriage or civil union she had been to, so the couple made up the rules as they went.
"It was awesome. The service was pretty traditional. All the women dressed in red and the men were all in white, so it was amazing walking down the aisle and seeing those colours.
"With the theme, we didn't need to do a lot to the venue, although we did have a few surprises.
"We had Miss Ribena the drag queen as our MC, that was her gift to me and Sue. She was amazing."
The couple had a nine piece soul band playing at the reception.
They also gave a nod to the gay pride movement with a rainbow layer cake.
"We both wore dresses which I think caught people slightly off guard," Jessie said. "I think they were expecting one of us to wear a suit or something."
Jessie's family were there including her parents and her 93-year-old pop, but Sue-Ann's were unable to make it as they live in South Africa.
Jessie said the biggest reason for her and Sue to get married was so when they had children, both would equally be recognised as parents without one of them having to go through the adoption process.
Tauranga celebrant Jonnie Mead married the couple and said while she had done many civil unions, this was her first same-sex marriage ceremony.
Celebrant Debbie Hunt has six same-sex marriages coming up over the summer months.
"They are a bit different to a civil union and I've done plenty of those, the same forms are followed.
"A few of my civil union people are going to change to a marriage and I've got a couple coming over from Australia."
Mrs Hunt said at this point the ceremonies would all be standard weddings, although same-sex weddings tended to be smaller than heterosexual weddings.
Carol Rickard would also be officiating at the wedding of a couple in a civil union.