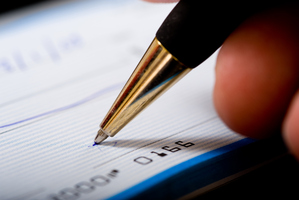 The Bay's economy is set to get a $26 million boost with nearly 58,000 Bay of Plenty households due to receive a Tauranga Energy Consumer Trust (TECT) cheque in the post.
TrustPower account holders who are eligible for the payout will receive a minimum $400 in the post over the next week, with the average cheque totalling $480, according to TECT chairman Michael Cooney.
People from Waihi to Otamarakau will receive the windfall, which is a result of TECT's 33 per cent share in TrustPower.
Mr Cooney said the value of each cheque is made up of a set, base figure for each consumer, plus an amount which varies according to each individual household's electricity usage.
Mount Maunganui mum Dee Blackwater said the cheques were a big highlight for many Bay families.
"People always look forward to receiving them," she said.
"It's good timing before Christmas but I find the money doesn't last that long. Personally I am going to shout myself a new pair of shoes and a good haircut and I know a lot of other Bay mums who are planning the same!"
Mr Cooney said TECT's policy is to distribute around 80 per cent of its net earnings direct to consumers.
"We also assist community projects and groups with grants," he said.
"Next month, TECT will mark its 20 year anniversary as one of New Zealand's largest energy trusts.
"Since 1994, TECT has provided over $59 million to local community organisations and more than $220 million has gone directly to TECT's 60,000 individual consumers. "TECT has also funded projects both large and small including the TrustPower TECT Rescue Helicopter, Baywave, the TECT All Terrain Park, ASB Arena as well as events like the Tauranga Arts Festival, Tauranga City Airshow and the city's Jazz Festival."