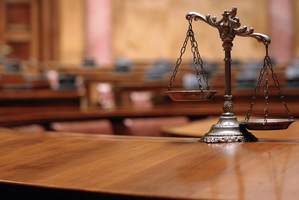 A Tokoroa leather shop has been revealed as a front for a large-scale drug-dealing operation run by an "organised criminal group".
Four women and one man were set to go on trial in the High Court at Rotorua yesterday on a range of methamphetamine (P) and organised crime charges. Instead, they all pleaded guilty.
Sharon Marie Mihaka, 57, admitted three charges of supplying methamphetamine, two of possession of methamphetamine for supply and one of offering to supply the drug.
The offending took place between July and December 2011.
According to the prosecution's summary of facts, for years police had suspected Mihaka of selling drugs from her business Sharon's Fine Leathers in Swanston St. In November 2011 they monitored telephone and text data for 40 days as part of Operation Harvest. Mihaka and several others were charged as a result.
Mihaka's 38-year-old daughter Leah Marie Green pleaded guilty to one count of supplying methamphetamine and one of participating in an organised criminal gang with the objective of obtaining benefit from supplying the drug.
She worked full-time in her mother's business, running its legitimate side but also helping sell drugs.
Green, who is pregnant, will be sentenced next year.
Dennise Amo Waddell, 37, a part-time employee at Sharon's Fine Leathers, pleaded guilty to one count of possession of methamphetamine for supply.
The prosecution said Waddell's home was used to store drugs and proceeds from the sales, which had helped Mihaka evade detection.
Mihaka's husband, Lionel Mihaka, 47, pleaded guilty to one count of possession of methamphetamine for supply.
The summary stated Sharon Mihaka did not trust her husband with the drugs, as she was "concerned he would smoke her profits away".
Justice Patrick Keane yesterday sentenced Lionel Mihaka to 12 months' prison, as a sentence indication had been given previously. APN News & Media