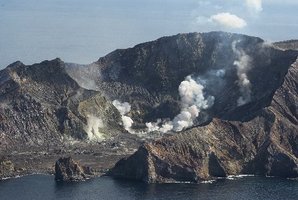 No further eruptive activity has occurred at White Island since the moderate eruption last month.
Seismic activity and gas flux from the volcano have been at a low level since the eruption on October 11.
The Aviation Colour Code has been lowered to Green from Yellow.
The potential impact of volcanic activity on aircraft has decreased and GNS Scientists have lowered the Aviation Colour Code to Green from Yellow. The Aviation Colour Codes are based on four colours and are intended for quick reference only in the international civil aviation community.
GNS volcanologist Nico Fournier said despite the seismic activity and gas flux from the volcano being at a low level, White Island remained in a state of volcanic unrest with instability in the volcano-hydrothermal system.
A range of eruptive activity can occur under these conditions. Eruptive activity can be expected with no prior warning. The larger eruptions can eject mud and rocks and may impact the crater floor area. The Volcanic Alert Level remains at Level 1.
GNS Science is continuing to closely monitor the activity at White Island through the GeoNet project.