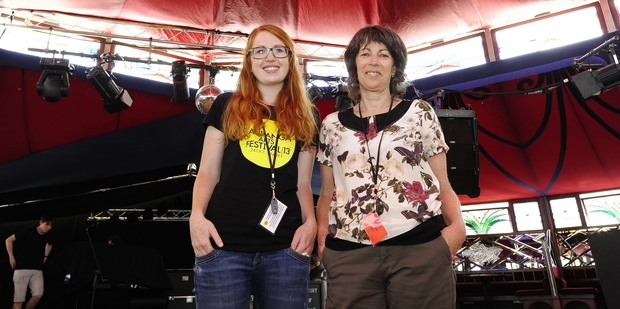 Organisers of this year's Tauranga Arts Festival say it was the most successful event to date.
The 10-day cultural and arts feast that featured more than 40 shows and events finished yesterday afternoon.
Festival publicist and producer Claire Mabey said this year's ticket sales appeared to be higher than previous years but final ticket numbers and profit were yet to be determined.
"There were 7000 people at the community day on Saturday and between our two venues of Baycourt and Crystal Palace, there were an extra 600 to 800 people through most nights."
A new X Space venue at Baycourt Theatre also allowed more people through the doors, Miss Mabey said.
Crystal Palace seated about 320 people, Baycourt about 500 and the X Space about 160.
Miss Mabey said nine of the main events were sell-outs and many more were well attended. "We sold out of shows of music [some people] have never heard before like Sal Valentine and Babyshakes.
"I think people here were craving live music and live theatre, especially for something different like Back of the Bus, which was on a bus."
Miss Mabey said the sell-out shows highlighted a broader demographic of people attending, including more men buying tickets for theatre "which you don't traditionally, really see. It just seems like people embraced that it was our festival, local."
Tauranga Arts Festival is a biennial event that received $25,000 from Tauranga City Council last year in annual support and $20,000 to help fund the popular Strand Exhibition community day.
In 2009, the festival ran at a loss despite high ticket sales.
Mayor Stuart Crosby said such events had a high revenue risk, but that was why sponsorship and council support was essential. "A key issue for me between now and March is to sort out our whole events issue that we have in Tauranga and make sure the new council is more supportive, not necessarily throwing money at them, but support them across the board."
Mr Crosby said this year's festival was tremendous and brought pride to the city "and pride to our residents who don't have to travel out of town to Auckland to experience these types of performances on a national or international level".
"Our younger people can see that we are backing more diversity and they can experience a whole range of different genres without having to travel out of the city."
Tauranga restaurateur Luigi Barattieri, who owns Comida, Volare and Spuntino, said the festival was good for business and Comida's location next to the Crystal Palace meant extra people before and after shows.
"Sometimes their time is short and you have to rush a bit but it was good - not better [than previous years], but good," he said.
This year's festival was the first not to include the World Press Photo Exhibition in its lineup.