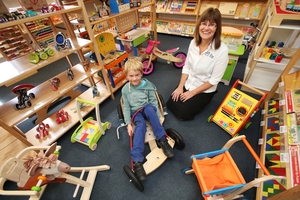 Classic and nostalgic toys are expected to top children's wishlists for Santa this year, with wooden toys and revamped favourites in demand.
Play kitchens and shops, wooden blocks and wagons, and Lego and Cabbage Patch Kids are all back in vogue for Christmas stockings in Tauranga.
Tracy Turvey, general manager of Tauranga-based company The Wooden Toy Box, said the New World Little Shop promotion had sparked a renewed interest in play shops and accessories.
"We are seeing a lot of market checkouts and cash registers selling. They are using the supermarket miniatures to play with them.
"We've got a corner stand with little bottles and bakery items."
Kitchens and workshops were also popular this year for both girls and boys.
A new toy proving to be a hit was the Swing Roller - an outdoor ride-on toy for toddlers.
"They propel themselves forward using their feet on a crossbar, not a pedal, but they pump their legs up and down."
Classic toys such as cots and strollers for dolls, and construction cars and trucks, had come back into vogue.
"We've got build-up peg boards, which have been around for 60 years. The parents laugh and say 'I had one of those', or they still have one."
Christmas shopping had begun in earnest over Labour Weekend, Ms Turvey said.
"People are starting to get in the swing of it."
Brian Godfery, of Childsplay on Devonport Rd, said parents were not spending as much as they used to on toys for Christmas.
"Some people come in and buy a lot of stocking fillers and spend $200.
"Others are very cautious about everything. Certain people will spend on quality."
One customer recently spent $600 on items including a trike, but that was the exception, Mr Godfery said.
Popular toys this year included puzzles, blocks, wagons, prams and ride-on toys.
"The parents are so safety conscious, they want good quality stuff that lasts and they can pass down the generations; something that's not going to break after five minutes.
"They put a lot of effort in around the early years, from zero to three."
Judy Shaw, of Clever Kids in Bethlehem, said her customers liked toys "that make brains think".
Hot new favourites included castles, dollhouses, stoves, pinball and foosball-type games.
"They [foster] great social skills and are great for a family gift or for at the bach."
Chemistry sets with Bunsen burners and swingball sets were also expected to be popular.
"People are delighted by the fact we have the traditional toys and the variety we offer, because we don't have the same toys that you see everywhere else."
Toyworld is also seeing a return to classic or nostalgic toys - its top 10 included old favourites Lego, Cabbage Patch Kids, scooters and a Sesame Street toy.
Toyworld toy buyer Repeka Haurua said nostalgia was one of the major trends this Christmas, and "everything old is new again".
Mathew Davies, of the new Toyworld in Fraser Cove, said the store was also seeing a rush on traditional favourites such as Playmobil, Sylvanian Families and wooden Thomas toys.
Plenty of people were already shopping with their Christmas lists and taking advantage of layby, he said.
It was often driven by parents and grandparents because the toys brought back fond memories of their own childhoods, she said.
Technology continues to be a hot item - the Leap Pad Ultra doesn't come cheap at $240, while Disney Infinity toys come to life in a "virtual world", in a crossover between gaming and physical toys.
The Warehouse has also included the Leap Pad Ultra on its top 10 toy list, as well as retro Teenage Mutant Ninja Turtle figurines, NERF, and Monopoly Empire.
Trash Pack Trash Wheels, Doc McStuffins toys and Monster High Dolls also made the list.