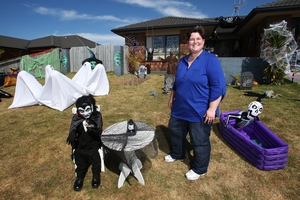 Hundreds of ghoulish figures hit the streets of the Bay last night, some up to mischief but most on the hunt for sugar, as they celebrated Halloween.
Papamoa mum Anneke van Wyk (pictured) said the festival was becoming more popular every year here.
"I have been decorating my house for five years now," she said.
"We always have a big crowd of kids come over to trick or treat. It's great fun to see their faces when you hand over the lollies."
PHOTO/JOEL FORD