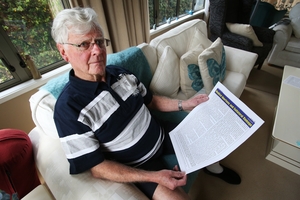 A pro-life group's anti-abortion advert instilled unjustifiable fear in a socially irresponsible manner, the Advertising Standards Authority has ruled.
The authority this month upheld a complaint about a two-page Voice For Life advertisement encouraging pregnant women and girls considering abortion to seek support from pastors before making their decision.
The advertisement featured in the Bay of Plenty Times, Bay News and other media in August and listed the names of 25 pastors offering support.
Voice for Life is considering appealing the decision.
The authority said a section of the advertisement, titled "Medical abortions and collateral damage", presented extreme cases "in an alarmist and misleading manner that went beyond the provision of robust opinion".
The majority of the Complaints Board said the tenor of the advertisement was likely to unjustifiably cause fear among women who were considering the procedure.
"The Complaints Board also noted the opinions of an academic, who was not a medical doctor, had been used in a way that was misleading and was likely to exploit the lack of knowledge of a vulnerable audience.
Consequently, the Complaints Board said the advertisement had not been prepared with a due sense of social responsibility to consumers and to society despite the provision for advocacy."
The complaint was lodged by Abortion Law Reform Association of New Zealand president Morgan Healey, who said it breached several advertising codes - fear; truthful presentation; research, tests and surveys; denigration; and social responsibility.
Dr Healey said the advertisement's reference to case studies including a girl bleeding to death after taking medical abortion tablets were lies and instilled "unwarranted fear".
"The integrity of both the Bay of Plenty Times and Bay News are substantially undermined by agreeing to publish and be complicit in willfully disseminating such beliefs."
Voice for Life Bay of Plenty Charitable Trust chairman Don Brebner told the Bay of Plenty Times the decision was not unanimous "which means there's somebody siding with our side".
References to a lack of social responsibility and playing on fear were a matter of opinion, he said.
"We won't be running similar ads again but we certainly won't stop advertising."
Bay of Plenty Times general manager David Mackenzie said he fully supported the authority on the matter.
"Once we were aware there was a complaint, future publishing of the advertisement was put on hold pending a decision from the authority."
The authority does not order fines or penalties as its prime function is to help advertisers self-regulate.
In the event of a complaint being upheld the advertiser, agency, and media are ordered to withdraw the advertisement.