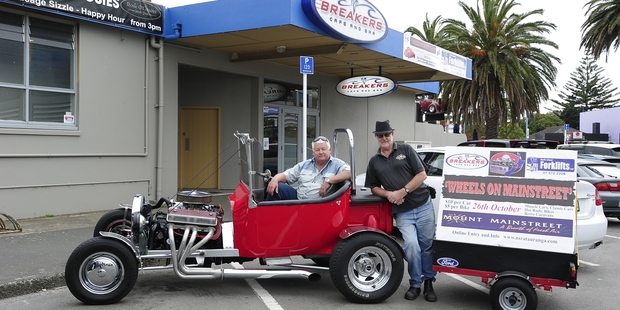 The wheels of a Tauranga man's modified 1923 Ford Model T barely stop turning.
Brent Moore's red Model T was one of more than 300 hot rods, motorbikes and classic cars that took over Coronation Park and Mount Maunganui as part of Wheels on Mainstreet on Saturday.
Mr Moore bought the car 15 months ago after 40 years of riding motorbikes and the wheels have hardly stopped turning since.
"I never saw myself owning one. It just happened to be there it was a change of hobbies."
He uses the classic car more than his regular Ford Falcon and has done 11,000km since he bought it.
"It's cheaper to run than the Falcon. With me and a full tank of gas it weighs less than a tonne," he said.
Mr Moore was in charge of taking the registrations for the second annual Wheels on Mainstreet and had spent the last couple of months towing around a trailer with a sign advertising the event.
The trailer itself was a special find, he said.
"It was originally made with the car, so it was a good find to get them back together again."
Last year, more than 18,000 people turned out to see the 163 cars on display but Mount Mainstreet manager Leanne Brown said this year's crowd was larger.
Organisers say they are still finalising figures but they are already thinking about the 2014 event after a big jump in registrations.
National Street Rod Association Tauranga area delegate Straw Lye said the event was successful.
"Town was just packed, it was an awesome event," he said.
"We are still finalising the registrations, but we had around 280 cars and 38 motorbikes. That is a big jump from 163 last year.
"We are going to have a debrief after the long weekend and talk about what we can do for next year. It's going to be all on again soon."
Classic car owners bought their prized possessions from as far as Taupo, Rotorua and Gisborne to take part in the event, with the Top Car award going to a 1932 Ford Coupe from Hamilton.
Chevys and Mustangs were a common sight at the event but more unusual was a Lamborghini, Mr Moore said.
"It's a bit outside our normal league. Generally it's old school and classic cars."
Retro caravans were also on display at the show.