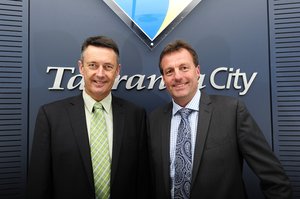 The man who almost toppled Mayor Stuart Crosby from the city's top seat is to become his right-hand man.
Incoming councillor Kelvin Clout will help take control of the daily running of the city in his new role as Tauranga's deputy mayor, Mr Crosby announced yesterday.
The position will come with a new office on the same floor as the mayor and chief executive Garry Poole - as well as a big workload.
Cr Clout shook up the mayoral race in this month's election, narrowing Mr Crosby's comfortable 13,000-vote margin over second-placed Murray Guy in 2010 to fewer than 600 votes.
Mr Crosby has revealed he will hand over some of his workload to Cr Clout so he can tackle big issues such as the marine precinct, rejuvenation of the CBD and the collaboration, and possible amalgamation, of Tauranga City Council and Western Bay of Plenty District Council.
Mr Crosby said his strategy was to allow his deputy to handle some of the day-to-day work so he could make real progress on long-term issues.
The mayor described his new deputy as a man who has "integrity, credibility and motivation".
"Early on in the election, Kelvin came to me off his own back and asked to meet for coffee," Mr Crosby said.
"He took the time to have a conversation with me about his plans and desire to run for mayor, and we laid out our expectations and some rules going into the campaign.
"It was then that I realised he and his family have good values.
"He is full of enthusiasm and I expect he will do well in this new role."
Cr Clout said he was humbled by the appointment - which will also see him take on roles in two of the more substantial committees, city delivery and monitoring and a new one named City Vision.
"They are definitely two of the more meaty committees in terms of workload and community impact," Cr Clout said.
"But I am ready for this role and I welcome the hard work.
"I have spent the last 12 months or so pulling back from the frozen food factory and as a director in my wife's business so I could concentrate on the campaign and, if elected, being on council. I am ready to give 100 per cent."
The 50-year-old said the details of his role were "still being worked on" but would essentially involve a bigger workload and more responsibility.
"The mayor wants to be freed up so he has more time to look at the strategic overview of the city," he said.
"My role will be very much on the ground and in the daily running of the city.
"I will be attending a lot of community events, that sort of thing, which I really enjoy.
"It will be a great chance for people to get to know me too.
"Obviously, I will not take anything for granted but I will be having another crack at the mayoralty next time around, so I do see this as a great training ground for me. This role will allow me to learn everything I can for the next time."
Cr Clout said he had a lot of respect for Mr Crosby and his decision to appoint him to the deputy mayor role.
"I am feeling very humbled right now. Obviously, I was Stuart's biggest competitor in the lead-up to election day, so it was very big of him to name me as his deputy."
Cr Clout said he was keen to reinvigorate the CBD, attract industry to town and help lead a positive, energetic council.
What do you think? To have your say email editor@bayofplentytimes.co.nz.