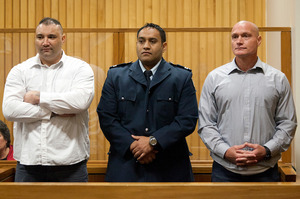 Hefty prison sentences have been handed down to the two men involved in the murder of a Tauranga businessman.
Witeri Neketai, 36, and Joseph Russell Rewiri, 45, appeared in the High Court at Rotorua before Justice Timothy Brewer today.
Neketai was sentenced for murder and Rewiri for manslaughter after the death of Gary Kimura at his Bellevue home on October 5, 2011.
Rewiri, aka Jody Rutledge, was serving a life sentence at the time for murdering Peter Franklyn in Rotorua in 2006.
From prison, he enlisted Neketai to collect a $31,000 drug debt from Mr Kimura.
The victim was assaulted at his home and suffered injuries including a fractured skull. He died in Tauranga Hospital on November 16.
Neketai was sentenced to life imprisonment with a minimum non-parole period of 13 years.
Rewiri was sentenced to nine years' prison, to be served concurrently with his existing life sentence.